New oral drugs close in on a cure
Author: Sarah M. Aldridge, MS
Update, February 9, 2016: The FDA has approved the expanded use of Daklinza® to include patients with hepatitis C virus (HCV), genotype 1. Further, the drug label will now state that it can be used in patients co-infected with HCV and HIV-1, those with cirrhosis and patients whose HCV recurred after a liver transplant.
Update, October 22, 2015: The US Food and Drug Administration (FDA) issued a warning that AbbVie's Viekira Pak® and Technivie™, oral hepatitis C treatments, can cause liver damage in patients with underlying advanced liver cirrhosis. The manufacturer will include this information on the drugs' labels. Further, US healthcare providers will be sent a letter with this update.
Update, July 24, 2015: The US Food and Drug Administration (FDA) approved two oral drugs to treat hepatitis C virus (HCV). AbbVie's Technivie™ is for patients with genotype 4 who do not have cirrhosis. It is the first all-oral, interferon-free direct-acting antiviral for this genotype, which is considered difficult to treat. Technivie contains the same 3 drugs as AbbVie's VIEKIRA PAK™--ombitasvir, paritaprevir and ritonavir. In addition, patients take ribavirin twice daily. In a clinical trial, 100% of adults who took Technivie with ribavirin for 12 weeks achieved sustained virologic response (SVR) 12 weeks after completing the regimen. SVR is considered an indication that patients have cleared the virus.
Bristol-Myers Squibb's Daklinza™ (daclatasvir) was approved for use with Gilead's Sovaldi® (sofosbuvir) to treat patients with HCV genotype 3. Daklinza is an NS5A replication complex inhibitor; Sovaldi is a polymerase inhibitor. After genotype 1, genotype 3 HCV is the most common. It is considered difficult to treat. In clinical studies, 86% of patients who had been on previous regimens achieved SVR 12 weeks after their 12-week regimen of Daklinza plus Sovaldi had ended.
It took 10 years for the cure rate for hepatitis C virus (HCV) to exceed 50%. But it only took two more years for the rates to jump to 95% and even 100%. The reason? An explosion in safe, effective oral medications. Two of those shining stars are Harvoni™, manufactured by Gilead, and AbbVie's Viekira Pak™. Both were approved by the US Food and Drug Administration (FDA) in 2014.
No longer must patients endure injections of interferon, which triggered flulike symptoms and other debilitating side effects for its 48-week course and was effective in only about half of patients. Now they can simply swallow daily pills for half that time or less. "Having an all-oral option is a huge breakthrough. It's much more efficacious than our previous therapies," says Bruce Luxon, MD, PhD, Anton and Margaret Fuisz Chair in Medicine at Georgetown University in Washington, DC. He is a member of the National Hemophilia Foundation's Medical and Scientific Advisory Council (MASAC).
For the first time in decades, millions of patients with HCV will potentially hear the all-clear signal.
Stopping HCV in its tracks
Since the 1990s, researchers have tried to halt HCV. But HCV is a shape-shifter. Because it can mutate rapidly, drug resistance results. The secret to stopping HCV in its tracks is to block it at multiple stages in its life cycle. "In the last two years, we've come up with a variety of direct-acting agents, medications that attack various points of the hepatitis C replication system," Luxon says.
These direct-acting antivirals (DAAs) include NS3/4A protease inhibitors, which prevent the protease enzyme from cutting a long protein into smaller functional units that HCV needs to replicate. NS5B polymerase inhibitors, another type of DAA, arrest the activity of the polymerase enzyme, which provides instructions for making copies of HCV RNA. A third DAA, the NS5A inhibitor, blocks a nonstructural protein HCV needs to reproduce.
A person is considered "cured" of HCV if he/she clears the virus, meaning it is no longer detectable in the blood. The goal is sustained virologic response (SVR), maintaining viral clearance for at least 12 weeks after the drug therapy ends. Although you are technically "cured," you will need follow-up appointments with your hepatologist to check your liver enzyme levels and the health of your liver. Further, while the virus may have abated, it may take several years for your liver to heal.
Drug details, clinical trial results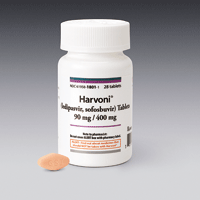 Nearly 4,000 subjects participated in the clinical trials for Harvoni and the Viekira Pak. The drugs were tested for 8, 12 or 24 weeks. A separate Harvoni trial exclusively on people with bleeding disorders concluded in March 2015.
Harvoni contains two antiviral agents: ledipasvir, an NS5A protease inhibitor, and sofosbuvir, an NS5B polymerase inhibitor. Sofosbuvir is the component in Sovaldi®, Gilead's blockbuster drug that debuted in 2013. Patients previously treated with other therapies and those with cirrhosis were included in the trials. That's the profile of some men with hemophilia.
If you were on a previous HCV therapy but failed to achieve SVR, Harvoni may help you succeed. "Treatment-experienced patients can be treated for 12 weeks," says Luxon. But if you have cirrhosis, or liver scarring, the duration of the therapy will be 24 weeks, he says. The FDA did not specifically approve Harvoni for use in patients co-infected with HCV and HIV. However, it will be used off-label for these patients, Luxon says.
The Viekira Pak holds three pills, two of which are dasabuvir, an NS5B non-nucleotide polymerase inhibitor. The other is a combination of ombitasvir, an NS5A inhibitor; paritaprevir, an NS3/4A protease inhibitor; and ritonavir, a protease inhibitor found in HIV therapies. Ritonavir boosts blood levels of paritaprevir. "It blocks the liver's enzymes from metabolizing the active drug," explains Luxon.
In contrast to Harvoni, patients with HIV were included in the Viekira Pak trials. "There was a 92% cure rate," Luxon says. "The results were stunning."
Further, only 1%–2% of patients discontinued their participation before the end of the trials. The reported side effects were minor and included fatigue, itching, nausea and sleep disturbances.
Ribavirin remains
Ribavirin, the former sidekick of interferon in treating HCV, is still in the picture. It adds a therapeutic benefit for patients with genotype 1a, people with cirrhosis and those who've had a liver transplant, says Luxon.
Cost controversy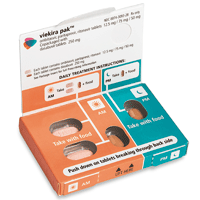 The media have spotlighted the astronomical costs of these new oral HCV drugs. At a price tag of $94,500 and $83,319 for 12 weeks of Harvoni and Viekira, respectively, patients' heads may be spinning, not to mention insurance companies' expenses. And even more so if you'll be on the 24-week protocol.
Luxon offers his perspective on the cost controversy. The new oral drug regimens prevent patients' ­livers from developing end-stage liver disease (ESLD) and cancer, and requiring costly liver transplants and anti-rejection­ drugs for life, he says. "This is a very cost-effective way to prevent ESLD and improve the quality of life for these patients," affirms Luxon.
Once additional pharmaceutical companies enter the fray, look for drug prices to drop. "As we have more competition in the market, I believe the costs will be driven down," Luxon says.
Seek treatment
For the past few years, hepatologists (liver specialists) have been waiting for the optimal medications to come along for their HCV patients. That time is now. "The overall message I try to stress is that we now cure greater than 95% of patients with  hemophilia who are infected with HCV, whether you're cirrhotic or co-infected with HIV," Luxon says. "This is a huge breakthrough."