Education, inspiration and entertainment mark the 2016 gathering in Florida
Clear blue skies and bright sunlight greeted the more than 2,700 attendees who gathered in Orlando, Florida, on July 21–23 for the 68th Annual Meeting of the National Hemophilia Foundation (NHF). It was a chance for people from across the country to get together to gain valuable education, reconnect with old friends and make new ones, and learn about the latest bleeding disorders treatments in the pipeline. But this year, there were even more faces in the crowd, as the Annual Meeting ran concurrently with the World Federation of Hemophilia's (WFH's) global member organization training,giving the NHF meeting a decidedly international flavor.
NHF's Annual Meeting officially kicked off with NHF CEO Val D. Bias welcoming this international audience. The inspiring speech emphasized NHF's continuing commitment to improving the lives of people with bleeding disorders in the US through research and access to care, and around the world through support for WFH's international aid programs.
A diverse array of educational sessions offered attendees knowledge on a variety of topics. For families, The Comprehensive Care Show provided an interactive look at a visit to a hemophilia treatment center. There were also sessions on reducing stress at infusion time and managing pain in children. Consumers learned how to partner with healthcare providers to ensure better care and information on new treatments, blood safety and insurance issues.
For people affected by von Willebrand disease (VWD), NHF provided a four-hour preconference. It included an Ask the Expert session and additional sessions on new and emerging treatments and joint health.
NHF underlined the importance of staying active with five Healthy Steps sessions. Attendees could get their blood pumping with Just Dance, kick off a healthy morning with the Fit and Fun Walk/Run, or recharge their minds and bodies with yoga or tai chi.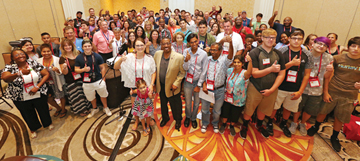 NHF's Connections for Learning grant recipients enjoy the Annual
Meeting experience, many for the first time.
Sessions for women with bleeding disorders offered something for women at every stage in their lives. They included an in-depth discussion of hormone therapy, a session on pregnancy and childbirth, and a session on aging gracefully with a bleeding disorder.
Adult men with bleeding disorders learned tips on planning for retirement as well as options for long-term care. Similarly, partners and spouses had sessions that focused on building strong partnerships and how to fit into the community when you aren't affected by a bleeding disorder.
The meeting closed with NHF's Final Night Event at Universal Studios Orlando, where attendees could visit Harry Potter's Diagon Alley or take a 3-D adventure with minions.  
NHF is grateful to platinum sponsors Baxalta (now part of Shire), Bayer, Biogen, CSL Behring, Novo Nordisk and Pfizer, and silver sponsor Octapharma.
Don't forget to mark your calendars for next year: NHF's 69th Annual Meeting will take place August 24–26, 2107,  in Chicago. We'll see you there!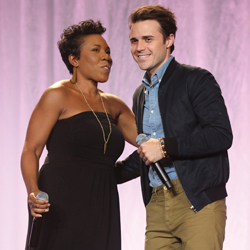 American Idol contestants Melinda Doolittle and
Kris Allen shared the stage and a song during
the Opening Session.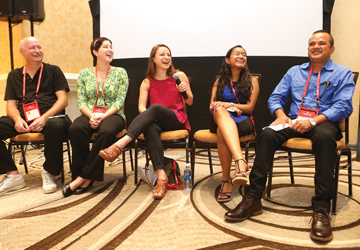 Fathers and daughters took the stage to share their experiences.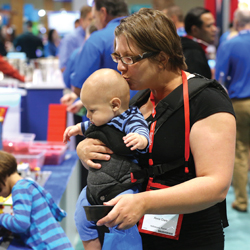 The Exhibit Hall's interactive displays appealed
to children and adults alike.

No matter the age, everybody learns when generations compare notes.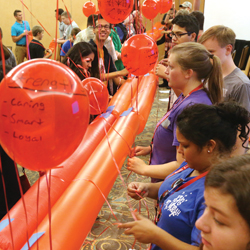 The Teen Track provided many opportunities for
collaboration and problem-solving skills.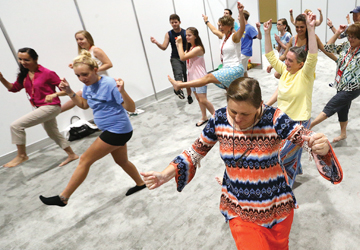 Healthy Steps: Let's Dance got attendees into the groove.