My Life, Our Future continues growing
Author: Beth Marshall
On a rainy Saturday in January, 26 people arrived at Valley Children's Hospital (VCH) in Madera, CA, for one reason: to take part in a project that aims to unlock new treatments and cures for hemophilia. It was VCH's Genetics Day, which offered free genotyping for patients with hemophilia through the My Life, Our Future (MLOF) program.
MLOF is a joint partnership between the National Hemophilia Foundation (NHF), the American Thrombosis and Hemostasis Network (ATHN), BloodWorks Northwest, and Biogen. Its goal is to genotype people with hemophilia and place the de-identified genetic samples into a research repository. Once the repository has enough samples—the goal is 5,000—researchers will be able to apply to access the information. The partners in MLOF hope that one day, as a result of this, better treatments and cures will be available for people with hemophilia.
VCH had asked patients to participate in MLOF before. In 2015, it held its first Genotyping Day, collecting samples from approximately 34 people. While pleased with the success, it required staff members to volunteer considerable time. This year, VCH received a grant through MLOF to hold a second Genotyping Day, which helped cover the cost of the extra staff hours. To successfully genotype the patients who participated in the program, VCH required about a dozen staff members to perform such duties as registration, blood draws and supervision.  
For VCH, the benefit to their patient population was twofold. Patients could take advantage of free geno­typing services, while also enjoying time with their HTC team. Each person spoke to one of the two hematologists before having blood drawn.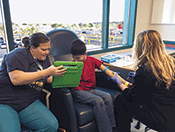 A mom distracts her son with a
tablet game while his blood is
drawn for genotyping.
It was critical for the team that the experience was not stressful for participants. A social worker was on hand to answer any questions that families might have about the program or the procedure. The team worked closely with the hospital administration to ensure that patients were not erroneously billed for their participation. Further, they used "Child Life," a hospital program that helps calm children down if they are nervous or scared about needle sticks.
VCH serves a population that is largely rural; for many, ­English is not their first language. A Spanish interpreter was there to facilitate communication.
VCH has now enrolled approximately 100 of the 130 hemophilia patients at the HTC in the MLOF program. Vinod Bansal, MD, a physician on the team, was excited about the success of the program. "We believe in how important this project is. It comes across when we talk with patients and their families."