Cornerstone Initiative closes the healthcare gap in developing nations
Author: Antonio Almeida, World Federation of Hemophilia Programs Director
Worldwide, an estimated 1 in 1,000 people have a bleeding disorder. But 75% receive either inadequate treatment or no treatment. In developed countries like the US, diagnosis, management and proper care are readily available for people with bleeding disorders. As a result, patients live fuller and healthier lives. But because diagnosis and treatment are inadequate in developing countries, many people with bleeding disorders die young. For those who  do survive early childhood, most experience joint damage from untreated bleeds, resulting in permanent disabilities and chronic pain.
In an era in which diagnosis and treatment are so readily available to many in North America, the heartbreak  parents in developing countries feel in not being able to help their child alleviate pain and treat bleeds is difficult to understand. Many people with bleeding disorders in developing countries face additional challenges: inadequately equipped hospitals, untrained or inexperienced doctors, poor transportation infrastructure, lack of education about the disease and no access to clean water. Under these conditions, a rare disease such as a bleeding disorder can be easily neglected.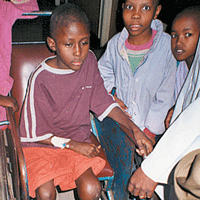 Photo courtesy of WFH
A young East African boy faces a
life with a disability due to hemophilia.
"The World Federation of Hemophilia (WFH) has a vision that all patients, men and women, will one day have access to treatment regardless of where they live," says Mark W. Skinner, WFH president from 2004 to 2012. "As part of the WFH's 50th anniversary, a commitment has been made to accelerate the work to close the gap in care globally. The quest to introduce, improve and sustain care should not be limited by geo­graphy, economic wealth of a nation or the existing healthcare infrastructure."
For the past 50 years, the WFH has been the cornerstone of global development in the care of bleeding disorders. This work is carried out in collaboration with its national member organizations and a dedicated group of medical and lay volunteers. WFH's programs are based on a comprehensive development model that aims to achieve sustainable care and treatment for all. These programs, such as the Global Alliance for Progress, have benefited many patients in developing countries, but there are still patients without access to even basic care.
To expand its continuum of care, the WFH will launch the Cornerstone Initiative in 2013 to address needs where the gap in care is the greatest. Through training and capacity building, the WFH will lay the cornerstone for a solid foundation upon which the future of care development may occur around the world.
The Cornerstone Initiative will target countries at the lowest end of the economic spectrum. Most of these countries have not been able to integrate care for bleeding disorders into national healthcare programs due to less developed infrastructure. This initiative will work to develop and improve diagnosis capacity, provide basic training in the management of bleeding disorders and strengthen patient organizations. Examples of these efforts include coaching lay members on how to effectively manage a patient organization, providing skills training for medical professionals and holding capacity-building workshops.
Too many patients worldwide remain undiagnosed, and too few receive adequate treatment. Through the Cornerstone Initiative and the other WFH programs in its continuum of care, "Treatment for All" is a vision that can be accomplished in our lifetime.