Hemophilia organizations hit the road to educate community about healthcare reform and health insurance issues
Author: Melanie Padgett Powers
The National Hemophilia Foundation (NHF) is collaborating with LA Kelley Communications to educate the bleeding disorders community on a variety of insurance and healthcare reform topics.
Pulse on the Road is an interactive, educational symposium created by LA Kelley Communications, an organization founded by Laurie Kelley, who has a son with hemophilia. The symposium expands on the information provided in the communication firm's PEN's Insurance Pulse newsletter by educating people directly at NHF chapter annual meetings and retreats. Pulse on the Road and Insurance Pulse are sponsored by Baxter Healthcare Corporation.
"We've been warning the hemophilia community for six years of impending and dramatic changes in insurance reimbursement," says Kelley. "While many in our community are pleased with the Affordable Care Act (ACA), many have questions." People want to know how healthcare reform will affect their premiums, whether their particular factor product will be covered and when lifetime caps will disappear. "Most importantly, ACA is not final—insurance is always changing, and there is pressure to repeal the act," Kelley says. "Families affected by hemophilia need to stay current with insurance changes."
During the three-hour program, Kelley provides a historical look at hemophilia and healthcare coverage. This is followed by an Insurance 101 session to make sure attendees are familiar with insurance terms before delving deeper into insurance education. Next, a member of NHF's state advocacy team summarizes the results of a 2010 NHF survey that assessed consumers' knowledge about health insurance issues and healthcare reform. NHF collaborated with the Hemophilia Federation of America on the survey.
"One of the takeaways from the survey was that consumers need more basic information about health insurance, specifically what to look for when choosing a healthcare plan and how to balance benefit design and plan costs," says Michelle Rice, NHF regional director of chapter services.
After the survey presentation, a representative from Patient Services Inc., a nonprofit safety net for people struggling with insurance costs, gives an overview of the new healthcare reform law. Participants can then select one of three breakout sessions: healthcare reform's potential impact on Medicaid in that state, managing out-of-pocket expenses or evaluating a family's insurance options, led by Rice.
The program ends with an open discussion with all the speakers and attendees.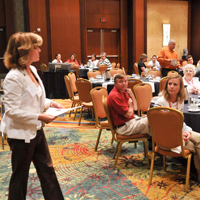 "I thought Pulse on the Road was well-balanced and up-to-date given all the changes with healthcare benefits and the new regulations," says Nina Duggan of Chantilly, Virginia. Duggan has two sons with hemophilia B, one severe, one mild.
Pulse on the Road was presented at two chapters in 2010: the Hemophilia Association of the Capital Area in DC and Hemophilia of Indiana. Five more chapters were added in 2011: Great Lakes Hemophilia Foundation , Lone Star Chapter, Oklahoma Hemophilia Foundation , Bleeding Disorder Foundation of Washington and Hemophilia of South Carolina.
Organizers are hoping to continue Pulse on the Road in 2012. Check the Pulse on the Road Web page to see if it's coming to a chapter event near you.