NHF Walk program continues to grow
Author: Beth Marshall
Merlin's Marchers are almost ready to go. Coagul8tes gather for a group picture. The morning sun glints off the San Francisco Bay as nearly 400 people meet in Cesar Chavez Park in Berkeley, California, ready to kick off the Northern California Hemophilia Foundation's Hemophilia Walk—the first Hemophilia Walk of 2010.
The National Hemophilia Foundation's (NHF's) Hemophilia Walk program began three years ago with five walks. In 2009, participation doubled, with 10 walks across the country. This year, 14 chapters will be holding walks. "In 2008, we had 2,700 walkers," says Kristin Hokoyama, NHF development manager. "In 2009, it was 6,000. We're hoping for 10,000 walkers this year."
Raising the Chapters' Profile
The Walk program is designed both to raise money for NHF and its chapters and to raise the profile of local chapters in their communities. "In 2009, NHF and the chapters raised a combined total of $1.2 million with the Walk program," Hokoyama says. NHF's national sponsors include Presenting Sponsor Baxter, Milestone Sponsor Bayer Healthcare, Supporting Sponsor Pfizer and Event Sponsor Talecris.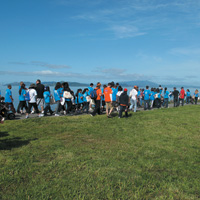 "Baxter has supported the Walk program since the beginning. It has committed more than $1 million through cash sponsorships, team fundraising and media outreach campaigns," Hokoyama says. "And, of course, without the local sponsors and individual fundraisers and teams, the walks wouldn't even get off the ground." 
But it's not only money that has made the walk programs successful for the chapters. "One of the biggest benefits of the walk is how it's made our Bay Area community aware of both bleeding disorders and us in a way we've never been able to do before," says Merlin Wedepohl, executive director of the Hemophilia Foundation of Northern California in Emeryville. "We were able to reach outside the bleeding disorders community and get sponsors, volunteers and walkers who had never been involved with us until now."
Three Hemophilia Walks have already taken place. The majority of the 11 remaining walks will be held this fall. It's not too late to get involved by forming a team, signing up to walk or donating.