Father remembers son who died of AIDS
Author: Beth Marshall
In each issue of HemAware, we "Take 5" with people in the bleeding disorders community and spotlight their accomplishments with just five questions. This month, HemAware met Hank Nicols, a 59-year-old man who wrote Henry for President, a memoir about his son's remarkable life.
How did Henry contract HIV/AIDS?
Henry got HIV/AIDS very early in the epidemic, back in the 1980s. He was around 10 years old. He was infected because of his moderate hemophilia A. The blood supply, especially factor VIII, was contaminated.
Were you afraid to go public with this information?
Our family went public with a great deal of trepidation during Henry's senior year of high school. We were very anxious about what would happen. We live in a very small community—Cooperstown, New York—where our family is well known. But our whole family agreed with Henry that having AIDS doesn't mean that you should live in isolation or fear. We supported the idea of Henry becoming a public figure and educating people about AIDS.
How did the title of the book, Henry for President, come about?
Henry was interviewed in a national town hall meeting about AIDS shown on ABC-TV and hosted by Peter Jennings. Jennings began, "Henry, tell me about some of the more unusual questions you've been asked." And Henry said, "Adults never ask this question. Seventh-graders always ask this question: 'What do you want to do before you die?'" So Peter Jennings asked him, "What do you want to do before you die?"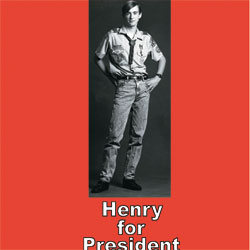 Henry replied, "I've thought about it a lot. Most people think I would want to go to Disney World or Europe or something. But that's not what I want. What I want to do before I die is be the president." Peter Jennings started to laugh, and everyone in the audience started to laugh, and Henry said, "No! No. Stop." Peter Jennings apologized and said, "We are not laughing at you."
Henry continued, "That's the problem, Peter. Most people think AIDS is a death sentence, and AIDS patients make immediate plans to die. But we don't. We live, and we have long-term plans. I've figured it out. In 2008, I'll be 34 years old. I'll turn 35 during the primaries. And I'll be old enough to run for president. So my plan for 2008 is: Henry for President." He got a standing ovation.
Why did you want to write a book about Henry?
Henry knew from a very early age that he was mortal. When he was 17, he became an activist after being told that he had less than two years to live. He turned that two-year life expectancy into nine years. Henry developed an understanding and maturity beyond his years. He was an eloquent, articulate young man and was not afraid.
Henry, unfortunately, died in 2000 and didn't get to run for president. But this is 2008. It's the year he would have turned 35 and would have been eligible to run for president, and it is the year I promised myself I would write his book.
Is your family still involved in AIDS advocacy?
Our whole family is involved. Jennifer, Henry's oldest sister, is now a doctor of education in the health department at SUNY College at Cortland. She teaches health education, but she has a special interest in AIDS and sexually transmitted diseases. Henry's sister Diana is a police officer and also an AIDS activist, and continues to speak on request as does Joan, his mother, and myself.
Every day of our lives, we continue Henry's legacy. My wife and I wear a red ribbon on our collars every day. There are so many colored ribbons worn for causes now that often people ask about our ribbons. It gives us a chance to tell them the story of our son and how we think courage and compassion are so very important. It was those two things that exemplified our son's life. Henry had the courage to demand compassion—not just for himself, but for everyone.
Henry's parents, Hank and Joan, live in Cooperstown, New York.