Community comes together at 2009 Annual Meeting
Author: Beth Marshall
The photos drifted across the two large screens that flanked the ballroom stage—children horsing around at camp; families proudly crossing the finish line at a Hemophilia Walk; a teenager showing a member of the US House of Representatives his bottle of factor. These images, shown during the Opening Session of the National Hemophilia Foundation's (NHF's) 61st Annual Meeting in San Francisco in October 2009, illustrated the ways that NHF and its chapters build connections among the members of their community to improve the lives of people with bleeding disorders.
In his speech at the Opening Session, NHF CEO Val D. Bias reiterated NHF's commitment to its chapters and the community through various programs and campaigns. Bias announced that NHF's ACT campaign (Access to Care Today, Achieve a Cure Tomorrow) had raised $7.5 million, or 90% of its fundraising goal. ACT is designed "to ensure the best care available for all those with bleeding disorders through a collaboration of national and local efforts," Bias explained. "This campaign was in the true spirit of this year's Annual Meeting theme, 'Building Bridges.'" The ACT funds have been used to strengthen NHF's capacity to support its chapters. So far, $170,000 has been given directly to chapters in the form of infrastructure grants.
The commitment to chapters was echoed in the Annual Meeting's newly expanded chapter staff track, with sessions on how to evaluate the success of a program, how to work with a board of directors and how to use new technology to cost effectively promote programs and activities. 
NHF's Annual Meeting sessions provide information and education to consumers and providers. "Ask the Experts: Inhibitors" was a standing-room-only session led by Leonard Valentino, MD; Dilip Moonka, MD, lent his expertise to "Ask the Experts: Hepatitis C." Once again, medical professionals took part in a variety of sessions for physicians and researchers, including plenary sessions on inhibitors and clinical care for people with rare bleeding disorders. The popular research poster presentations included a session highlighting the top 10 poster abstracts and a reception where researchers could explain their work.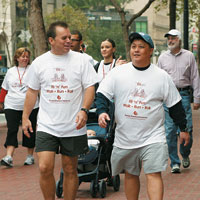 A slightly chilly morning didn't deter Annual Meeting participants from gathering for the annual Fit 'n' Fun Walk/Run/Roll down Market Street to San Francisco's historic Ferry Building. In addition, the Babycare/Activity Program for Kids & Teens shuttled kids off-site for hands-on learning and fun at the San Francisco Exploratorium's many interactive exhibits.
San Francisco is famous for its Halloween celebrations, and NHF got into the act with a Final Night Event costume party, where kids competed in a costume contest. Even adults who didn't pack a disguise joined in the fun with the hats, wigs and props provided at the party. It was a monstrously good time of dancing and celebration. As the revelers left the ballroom, posters reminded them that NHF will be "marching forward" with the 62nd Annual Meeting in New Orleans, November 11–13, 2010. Laissez les bon temps rouler!