Hematologist leads National Institutes of Health division
Author: Melanie Padgett Powers
The appearance of HIV/AIDS in the bleeding disorders community was the defining moment in the life of W. Keith Hoots, MD. For this pediatric hematologist, the emergence of the devastating disease was not subtle. "It was profound," he says.
Hoots began researching hematology as a college student at the University of North Carolina at Chapel Hill. In medical school, he decided to become a pediatrician. He couldn't have known then that his love of hematology and patient care would combine to put him at the forefront of hemophilia and HIV research and treatment.
Hoots spent almost three decades as director of Gulf States Hemophilia and Thrombophilia Center in Houston and as a researcher at the University of Texas M.D. Anderson Cancer Center. His research included clinical trials of new hemophilia factor products and hemophilia gene therapy trials.
But it was a two-decade study of boys and adolescents with hemophilia and HIV that Hoots considers one of the most rewarding achievements of his career. The study led to more than 100 published papers. It has provided a better understanding of how HIV infects white blood cells and the associated complications among HIV-positive children and adolescents.
For his numerous achievements, Hoots received the National Hemophilia Foundation's (NHF's) Outstanding Service Award in 2004. He also chaired NHF's Medical and Scientific Advisory Council­ (MASAC) from 2001 to 2007.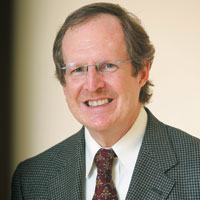 But in his new position Hoots will have an opportunity to make a greater impact on bleeding disorders research and treatment.
In January 2009, he became the director of the Division of Blood Diseases and Resources at the National Heart,  Lung, and Blood  Institute of the National Institutes of Health (NIH) in Bethesda, MD. He leads a staff of 30 and oversees a research budget of nearly $500 million, which is distributed to researchers across the US.
"It was the chance to have an impact on the science more broadly than what I traditionally have been involved with and to take on a new challenge at this stage of my career," Hoots says.
Research Outlook
A promising research area for the bleeding disorders community is the way that cells interact with proteins in response to injury, Hoots says. While researchers working in the field of bleeding disorders usually examine how deficiencies in proteins cause excessive bleeding, now they are also studying the effect cells have with these proteins that leads to appropriate blood clotting and repair of injured blood vessels.
"I hope that this will result in a more complete understanding of all the elements that interact to produce normal clotting in response to injury," Hoots says. "This knowledge could then direct new avenues of research to enhance clotting in the face of too much bleeding or to reduce clotting activation when thrombosis is most likely to occur."
In the next decade, Hoots says challenges include continuing to improve quality of life with better and longer-acting factor concentrates and exploring the role that gene transfer could have in treating or curing bleeding disorders. Other priorities are to improve understanding of von Willebrand disease and to identify focused therapy for specific rare bleeding disorders, which have customarily had a nonspecific therapeutic approach.
"For example, we have traditionally relied upon fresh frozen plasma (FFP) to treat both factor V and X deficiencies because the diseases are so rare that neither specific recombinant factor V or X has been developed," Hoots explains. "Orphan drug development may fill the gap. Alternatively, new blood clotting therapies may provide a better substitute than FFP."  
Hoots says he is excited by the science being done to understand blood diseases of all types. In January 2010, he welcomed a new deputy director of the division, Donna DiMichele, MD, a prominent clinician-researcher from Weill Cornell Medical College in New York City. She specializes in hematology and rare bleeding disorders.
"Having individuals like myself and Dr. DiMichele, who have spent our careers primarily treating patients with bleeding and clotting disorders, means that we are very eager to facilitate new research ideas that advance this field."