Virginia hemophilia chapter develops interactive play
Author: Beth Marshall
In each issue of HemAware, we take a look at how local NHF chapters and associations are making a difference in their communities. The Virginia Hemophilia Foundation (VHF) has teamed up with playwright Steve Kohrherr to produce a one-man, interactive play focusing on hemophilia. We spoke to Kohrherr and Kelly Waters, LCSW, executive director of VHF, about the play, The X Factor.
How did the two of you decide to do this project?
Steve: I work for an organization called Young Audiences of Virginia, which is a local chapter of a national organization that brings the arts into the schools. I write vignettes and stories about history; this year I'm doing one about Jamestown and one about the Civil War. I've also written programs for other nonprofits, such as the Chrysler Museum of Art and the National D-Day Memorial in Bedford. But I've always wanted to figure out how to engage my work in the theater with my experience with my son, who has hemophilia. 
Kelly: I met Steve and his wife, April, at a First Step meeting. When I began talking to Steve and he explained to me the types of plays he's done for other organizations, I thought we could do something pretty remarkable. We received a grant from the Colburn-Keenan Foundation to cover startup costs.
What is the play about?
Steve: It's a three-act, one-man show. The premise of the show is that we're all different in some way: Some of us wear glasses, some of us have allergies and some of us have a bleeding dis­order. The play, The X Factor, focuses on hemophilia. The first act is educational, explaining what hemophilia is, how blood clots and what factor does. The second part is about acceptance, told through a fable. The third part is called "The X Factor Art Xtravaganza" and includes a song I wrote. Each part has audience participation. The third part has volunteers playing instruments, singing, taking pictures—using art to empower themselves.
Does it have appeal outside the bleeding disorders community?
Steve: I wanted this show to translate into a wider audience, which is why I made hemophilia the theme of the day. I wanted to make the audience feel that hemophilia is just one of the many topics that The X Factor covers. The acceptance and empowerment messages really can resonate for everybody.
How did the performance at VHF's Annual Meeting go?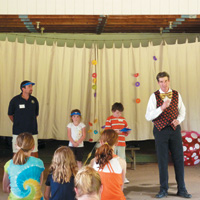 Kelly: People thought it was educational, they thought it was fun, they really liked the audience participation. They thought Steve was incredibly energetic and interactive. There were people there who really didn't know anything about hemophilia. Their response was, "Oh, now I get it."
Where else will you perform it?
Steve: We presented it at our camp this summer and we'll present it at NHF's Annual Meeting in New Orleans in November. We've also talked with a local theater group, and we're trying to figure out how to do it in the larger community. I think there's lots of growth opportunity. 
How can other chapters access this program?
Kelly: There are two ways: One is for Steve to travel to the chapter event and perform the play. The other option is to have the chapters perform it themselves. Steve's going to perform the play for the chapter track at NHF's Annual Meeting. Chapter staff can see the play there, and we'll be giving out an outline of the play, a list of props and estimated costs. All chapters need is a performer, and they can mount their own production.