Follow Levi Elza while he competes in a rolling scavenger hunt this week
Author: Levi Elza
The Rally Concludes
July 21, 2011
Day three was the most fun my wife and I had on the entire trip. It was a short day with only four checkpoints and was very fast paced. We split from our group for the first time and made a strong effort to do well, since it was the final day. On our first stop, we met Nascar Racing legend Cale Yarborough at his dealership in Florence, South Carolina. We then went on to Darlington Raceway and raced laps around the track.
Out next stop was pretty difficult. It was just shown as a picture on our route paper. We not only had to figure out the best way to get to it, but also what it was and where it was. Luckily, one of the other teams had Internet access in its vehicle and was able to find out, and the team was kind enough to share the information with us. The checkpoint was the Rice Museum in Georgetown, South Carolina. We were one of the first teams to get into town, but ended up getting stuck in a cluster of roadwork and took the wrong road at a detour. This was a minor setback, and we quickly caught back up to the other leaders.
Our final destination was at our hotel in Clarksburg, South Carolina. This was a challenging leg because there was a lot of roadwork. The remainder of the groups around us separated a good bit as some tried to bypass the construction and some pushed through. Only one other car stayed with me. We raced into the streets of Charleston and pushed each other all the way to the finish. At the end, I ended up in seventh place for the day. Since this was really the first day we actually tried to compete—in the first rally we had ever been in—I feel this was a pretty decent position.
Luckily, my wife enjoyed the event as much as I did and is already looking forward to next year. It was one of the most fun events she and I have been involved in as a couple. We met many interesting people, and everyone was very nice and willing to help any way they could. It was a great experience that we hope to be able to do again.
--Levi Elza
A Leisurely and Fun Day
July 20, 2011
We are having a great time. Wednesday, my group and I decided that since it was supposed to be such a demanding day, we were going to take our time and enjoy the trip at a slow pace. Two of the people in our group were chosen to be "flag girls" this morning, so we pulled off of the road, just after starting, to wait for them. This had already set us well behind the rest of the pack, so we pulled back into the lobby of our hotel and found all the checkpoint locations on the Internet before leaving.
This helped some, as we kept catching up to the pack until we would stop to do something else and they would get ahead of us again. Everyone in the group except for one team, had CB radios in their vehicles, so we decided it wouldn't hurt to stop and buy that team one at a truck stop along the way.
Our side event for the day was drag racing at Motor Mile Dragway. We were allowed to have an unlimited number of turns, which I took full advantage of. I went down the track around 10 times. I even got my wife to race once, too. This was pretty fun, and we ended up staying at the track for around three hours, seemingly guaranteeing that we would be the last group to finish. After finally leaving the track, we went on to the Rex Theater in Galax, Virginia. Here, we stopped and had lunch, which put us even further behind.
We then got onto the Blue Ridge Parkway for the next stretch. There were many random stops we had to make at different overlooks and locations. At one point, there was a detour sign that we followed, which took us about 30 minutes around the parkway and cut out quite a few of the checkpoints. I was a little aggravated that we couldn't get to them, as the signs stated that this portion of the roadway was closed. I said on the CB that it would be fun for our group to go back and get the points on the closed portion of the road and hope nobody else did the same.
Luckily, we were able to get to each of those checkpoints. Most of the teams skipped those checkpoints, causing them to be disqualified for not completing the day. With this, in a strange turn of events, the three members of our group that completed the entire day were part of a select group of people who also decided to drive around the "road closed" sign to get these checkpoints.
We won't know until the end of the rally if there were few enough people who did that for any of my group to place. It isn't probable, but it is a possibility. The last checkpoints were at Hickory Nut Falls in Chimney Rock State Park in North Carolina. This is a pretty neat location as well. After finding this, it was on to our stop for the night in Greenville, South Carolina.
Thursday will be my serious day. Our group has decided  we are going to split off and do our own thing because some want to try to win and some want to have a relaxing trip. This will be the only day my wife and I will be focusing only on the checkpoints and finishing without the unnecessary stops or having to wait for the rest of the team.
It will be nice to actually compete in the event for the day, just to see how well we will do. The first two days were more about the camaraderie than the competition, so tomorrow will be a change of pace. For now, I'm having fun, but am quite worn out. More updates tomorrow.
--Levi Elza
A Roundabout Start
July 19, 2011
Today was pretty hectic, but everyone in my group survived. We started off lining up in the pedestrian mall in Old Town Winchester, Virginia. There were enough cars to take up two streets facing each other. As we were released, we were given a paper with the day's checkpoints. Some had the name of the place, but no address. Some had addresses and names, and some were only pictures that we had to figure out what and where they were.
To mix things up right out of the gate, we were sent north to Martinsburg, West Virginia, instead of south. Some of the guys with me went one direction, while some went the other. We wanted to stay together, so this set us back early, as we had to find each other and really get going.
It was somewhat stressful until we got out on the road and began to figure out how everything was going to work. We ended up driving alongside the person who is shooting the video for the event, so we are hoping that we will make it on the main video at the end.
We got to Martinsburg with relatively few issues, then headed back south. Several of the checkpoints were actually along Skyline Drive, a beautiful road with awesome views of the Appalachian Mountains. It covered many miles and had several massive elevation changes between 1,000 and 4,500 feet.
We also raced laps around Shenandoah Speedway. I took a slow first lap because I had never raced a circle track at all, much less in a full-size pick-up with everyone's luggage in it. But after the first lap I decided to really push it. I think I did well, because when I finished, there were several people who complimented my driving ability and said the truck's performance had impressed them.
It turned out to be a good day. We found all of our checkpoints, and none of the people I'm with broke their vehicle or got in any trouble. We are in Natural Bridge for the night, and I'm exhausted. We did do a parade in downtown Lexington, Virginia. We had a bag of candy in the backseat, so we decided to toss it to the children who were watching. This seemed to like this.
Wednesday is supposed to be our "long" day. We will be given a great deal of checkpoints, and travel time is a couple hours more than the other two days. We will be drag racing at Motor Mile Dragway in Radford, Virginia, and we will be spending a great deal of time on the Blue Ridge Parkway.
--Levi Elza
Getting Ready to Start
July 18, 2011
Tuesday, we headed for Winchester, Virginia. We arrived at the hotel and are taking it easy, as I write this, until the drivers' meeting and pre-rally dinner later this evening.

I have been participating in several events leading up to this road rally, including racing the Trans Am regularly. In a stroke of bad luck, I broke part of the transmission just a week before we were leaving, so in a last-second decision, I decided that instead of trying to fix it, I would bring my truck instead.

I am very fortunate to have several great friends with good connections. It just happened that one of the other teams from my area had to drop out of the event and had a spare set of decals that he allowed me to have. I drove an hour to pick them up Sunday night and stopped at another friend's garage on the way home to put them on the truck.

My truck is silver, and the decals are red, which wouldn't have been my first choice, but beggars can't be choosers, and it did save me $150 for a new set.
 
We left around noon today, taking a near four-hour scenic route through the hills of West Virginia and Maryland before dropping altitude into Virginia. Traffic wasn't heavy, and it was an uneventful, but very nice trip.


While I am disappointed we couldn't bring the Trans Am, the truck does have its advantages. It is more comfortable to ride in and is quite a bit quieter in the cab. We were able to easily haul all of our bags and coolers, so that was a plus.
I'll be off to the drivers' meeting soon, and then tomorrow is the big "start" day!
--Levi Elza
Preparing for the Rally
July 18, 2011
I'm hitting the road, and I want to invite you along! My name is Levi Elza. I am 29 years old, I'm from Clarksburg, West Virginia, and I have severe hemophilia A. My wife and I will be competing in a major road rally starting today, and you can come along for the ride through this HemAware blog.
From early childhood through my teenage years, I was always very active. I ran several miles each day until around my third year of high school, when my ankles became my main targets for bleeds. I pushed on for several more years, taking part in distance running, baseball and basketball in high school, then adjusting my physical activities toward softball in college and, eventually, golf and bowling.
But even these sports are becoming increasingly difficult. Over time, I have lost most motion in both ankles, and I am no longer able to run or be as physically active as I once was. While at times this has been trying, both physically and mentally, I haven't let these issues consume me. Instead, I continue to find new ways to enjoy life.
One of my new passions is motor sports. I am involved in almost everything automotive-related, including drag racing, auto-cross events (short track races), car shows and cruise-ins (less organized car shows, usually with no judging). I have been incredibly fortunate to find a group of friends who share my common interest and understand my condition. They are always there to help me when I need them. My wife, Tina, is also very supportive of everything I do. She knows my vehicle is, in some ways, my new legs, so she accepts my sometimes-expensive hobby. 
Our newest adventure begins this week as participants in Rally Appalachia 2011, which is like an enormous scavenger hunt. Tina and I are Team #217, named after our daughter's birthday, February 17. (Johnnie is 17 months old and won't be making the trip this year, but I hope when she's old enough, she'll want to go on these trips with me.)
I hope to recap our adventures each day on this blog, but if Internet troubles or other roadblocks stop me, I will tell you all about our rally after it's complete. I encourage you to follow us on Facebook.
What We Got Ourselves Into
Here's how the rally will work: We will get a list of destinations to visit on each of the three days. We won't know where we are going beforehand. Our journey begins in Winchester, Virginia, today, July 18, and we will travel approximately 1,700 miles through several states before we reach Charleston, South Carolina, on Thursday, July 21.
Although the event is timed, we are required to follow all the laws of the road. If we arrive too quickly, receive a speeding ticket or are witnessed breaking any laws, we will be disqualified. To win, we need to arrive the closest to the allotted time without surpassing it.
Rally North America is hosting the event as a benefit for the Intrepid Fallen Heroes Fund, which assists military men and women who have been injured in battle and the families of those who have lost their lives defending our country.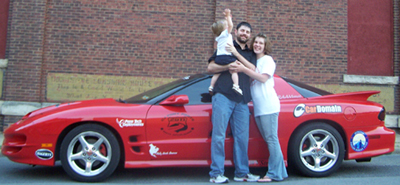 This year, 160 people—80 teams—will compete from all over the country and Canada. There is a wide variety of vehicles in the contest. There are new and old cars, sports and economy cars. Some are highly modified, and some are completely stock. There is no real advantage of one car over another, as the important part of this event is navigation.
My wife and I will be driving our 1998 Trans Am. This is a good vehicle to take on an excursion like this because it provides a great mix of power and economy. Ours puts over 350 horsepower to the ground but, surprisingly, still gets between 25 and 30 miles per gallon on the highway.
How the Rally Will Affect My Hemophilia
I have very few concerns related to our navigation and vehicle capability. My primary concern is my body's ability to handle eight to 10 hours in the vehicle for three straight days. There are also some checkpoints we are supposed to walk or run to. If it is a long distance, I may be at a disadvantage, because I can no longer run. To try to help as much as possible, I will be giving myself factor prophylaxis during the event.
There are a couple other teams going from my local area, so even if I end up unable to be competitive, plenty of friends will be there to ensure Tina and I have a great time.
And, we're off!
--Levi Elza