Mountain climber hopes to reach fundraising summit
Author: Mary Dixon Lebeau
HemAware "Takes 5" with people in the bleeding disorders community and spotlights their efforts with just five questions. Here, we talk with Jeff Salantai, who pairs his fundraising efforts with his passion, mountain climbing. Salantai, 32, of Austin, Texas, has severe hemophilia A. He is an account manager at BioRX, a national specialty pharmacy serving those with bleeding disorders.
1. How did you get interested in mountain climbing?
My brother-in-law, sister and I have been doing adventure trips for the past 15 years. We've gone all around the world hiking and pioneering. I was watching Everest: Beyond the Limit on Discovery several years ago and got real excited about mountains. I contacted my brother-in-law to see what he thought. He shot me down right away, saying it was dangerous, cold and a lot of people die. But I sent him information on Mt. Rainier in Washington state, and in about a week, I convinced him.
We tried the climb in 2007, but we were both unsuccessful. I encountered many bleeds on that climb, but that prepared me for the next one. In 2009, we did the Summit for Someone, raising almost $5,000 to allow inner-city youth to experience a week in the wilderness. I had done quite a few spectacular things, in my opinion, but reaching that summit was probably the greatest feeling of accomplishment I had to that point.
2. What has been the highlight of your climbing experience?
In 2011, I climbed Mt. Kilimanjaro in Tanzania as part of the Save One Life team. We raised more than $66,000 for this charity, which helps people sponsor a child or adult with a bleeding disorder in a developing country. I consider this my best experience because it was rewarding to be part of a team that helped to raise so much money for this great cause. This time, it wasn't the climb itself that was important. That was just a focus point to encourage people to donate. I did the climb with Eric Hill, president of BioRX, and Laurie Kelley, Save One Life's founder.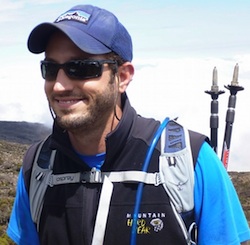 3. How do you deal with your hemophilia while doing a climb?
First, I have a good workout regimen. Training is a lot of Stairmaster, cardio and weights, as well as hiking. While doing the climb, I infuse whenever I have the opportunity, in a tent or at the base camp. I keep hydrated and warm to allow infusing into a vein. I carry factor with me in my backpack, closest to my back, so my core temperature will keep it from freezing.
4. What are your plans for the future?
Laurie, Eric and I plan to do an outreach for those with bleeding disorders in the Dominican Republic this summer. This will include a fundraiser, with Eric and I climbing Pico Duarte, the highest peak in the Caribbean (10,164 feet). Our visit there will also include a stop at the local camp for those with bleeding disorders. We plan to present them with a check that will hopefully cover the full cost of the camp this year.
5. What message would you like to share with others with bleeding disorders?
Never give up pursuing your goals. As long as you take care of yourself, you can still achieve so much and set an example for those younger than you growing up with hemophilia. The sky is the limit.
Editor's note: Being physically active is an important part of maintaining a healthy lifestyle. Please check with your health care team prior to engaging in new activities.
Do you know an interesting individual we should profile in a ­future ­issue of HemAware? E-mail Managing Editor January W. Payne.