Probably not that often. At uniQure, patients are the focus of all our decisions and discussions, whether those involve clinical trials, patient advocacy, or even manufacturing. In short, we think about manufacturing every single day.
Manufacturing is one of the most important steps for bringing biologic treatments, including gene therapies, to patients because of the small amount of product made. Years ago, we realized that the best way for us to effectuate consistency between the therapeutic candidate evaluated during clinical trials with the treatment that patients would ultimately receive post-approval, was by controlling every step of the manufacturing process in-house.
We asked Gary Potter, head of uniQure's manufacturing team, about his background and the importance of manufacturing in the development of gene therapy.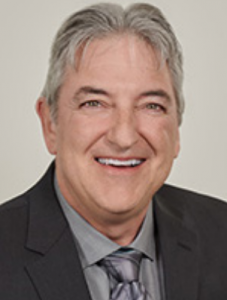 Gary: At uniQure, I bring 25 years' experience, including Factor VIII experience, to my role. My primary focus is on increasing our manufacturing capacity, while preserving quality.
Many patients with rare diseases are unable to access life-changing therapies because so few directly targeting their condition have been approved. When one is approved, maintaining consistent quality and facilitating broad availability are important for eligible patients to access the therapy.
At uniQure, it is this understanding and our dedication to patients that enable manufacturing personnel to adjust to the risks of coming into work during the COVID pandemic.
uniQure consciously decided years ago that all gene therapy manufacturing would be done at our state-of-the-art Lexington, Massachusetts facility with single-use bioreactors. These bioreactors allow us to maintain manufacturing flexibility, address sterilization challenges and support our efforts to develop therapies of high caliber. It is our view that the manufacturing process is essential to product development.
Pioneers in the field of gene therapy
Since uniQure's start 22 years ago, we have been pioneers, driven to discover gene therapies that have the potential to transform the lives of patients. In the process of obtaining the first regulatory approval for a gene therapy in the European Union, we laid the foundation to become one of today's industry leaders for discovering, developing, and manufacturing gene therapies for liver-directed, CNS-related, and other rare diseases.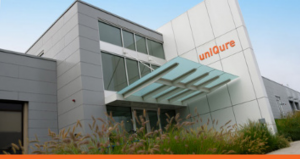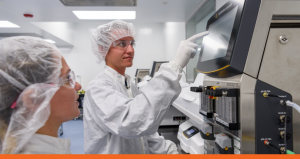 uniQure's 80,000-sq-ft gene therapy manufacturing facility received the 2017 Frost & Sullivan Manufacturing Leadership Award
Manufacturing brings gene therapies to life
Manufacturing remains key to patients accessing potentially life-changing gene therapies during clinical trials and after. By exclusively manufacturing on-site, the novel viral vector based gene therapies we investigate can seamlessly progress from concept to commercial.
For more than two decades, uniQure has thought about manufacturing daily, so patients do not have to.
---
Brought to you by:

©2020 uniQure