Grandmother's network of friends helps launch fundraising efforts
Author: Gillian Scott
Driven by love for her young grandson, Trish Griffith, of Knoxville, Tennessee, turned her network of friends and family members into a powerful fundraising force. 
In March 2014, Kai Griffith entered the world with unexplainable bleeding. The newborn's bleeding was eventually managed, and did not raise urgent concerns. "Kai had a wonderful first year," says Trish. But the development of many small hematomas following his first birthday prompted an emergency hospital visit. It was then that doctors determined Kai had severe hemophilia A. It was the first instance of a bleeding disorder in the family. 
Ups and downs
Soon after Kai's diagnosis, doctors implanted a port to help with treatment. Trish says her jolly grandson's contagious smile made him a popular patient in the pediatric intensive care unit. The procedure went well, but four months later, Kai developed an inhibitor. He also experienced two port infections.
"Kai is incredibly blessed," Trish says. "His parents, Ryan and Souchinda, have worked so hard to see that our grandson receives the right treatment and care." Plus, it helps that Kai and his parents live only one mile from the hemophilia treatment center (HTC) in Charlotte, North Carolina. Trish says Kai's pediatric hematologist at the HTC has fought on her family's behalf for insurance coverage and helped select a home healthcare nurse who had worked with other patients with hemophilia.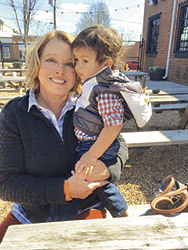 Helping generation
Trish wanted to help her grandson, but the distance between them presented a challenge to offering hands-on assistance. She decided instead to raise funds for the National Hemophilia Foundation (NHF) to support research and contribute to better treatment options for him.
Trish's personal appeal to friends, family members, neighbors and former colleagues led to an influx of donations in Kai's honor. Trish had successfully unleashed her "friend-raising" abilities, soliciting nearly $1,000 in support in just 24 hours. Since then, Trish has raised several thousand additional dollars not only by asking for donations, but also by selling custom T-shirts, teaming up with a Knoxville middle school to sell bracelets and hosting a fundraiser at a local brewery.
Trish's story is not an unusual one. Like many dedicated grandparents, she wants to help her grandson. However, her ability to encourage others to support research sets her apart. 
Her success started with a simple question to her network of friends and family. Trish shows that anyone in the community of bleeding disorders can be a voice that helps brings change.