NHF contributes to successful WFH 2016 World Congress
Author: Vanessa Herrick, Manager, Communications, World Federation of Hemophilia
This past July featured a first in the world of bleeding disorders: back-to-back meetings. First, the National Hemophilia Foundation's (NHF's) 68th Annual Meeting, then the World Federation of Hemophilia's (WFH's) World Congress. This unique opportunity gave US patients and their families the chance to participate in both of these key events to learn more about developments in bleeding disorders from a national and worldwide perspective.
The WFH 2016 World Congress was the best attended in history, with 5,482 participants from all around the world. The event featured the latest scientific developments, moving patient stories and a rich social program. Jens Bungardt, WFH Congress & meetings director, said planning and organizing the congress was a major endeavor that was greatly supported by NHF. "As an integral part of the Congress Organizing Committee, as well as the Medical and Multidisciplinary Program Committees, NHF was fully engaged and contributed at all stages to ensure attendees had a very special experience in Orlando," he says.
The WFH Congress would not have been possible without the generosity of a strong team of volunteers. This year, 80 of those volunteers were chapter staff from the Florida host chapters and NHF staff, who lent a helping hand to the WFH Congress right after the conclusion of NHF's 68th Annual Meeting on July 23. Another cornerstone of support came from those who helped organize and manage the treatment rooms both at the global national member organization (NMO) training during NHF's Annual Meeting and during WFH's World Congress. Specialized physicians, nurses and physical therapists volunteered to assess emergency and semi-urgent situations related to bleeding disorders. They also assisted with infusions for patients who were not able to bring clotting factor concentrates to the US from their home countries.
NHF's close collaboration with the WFH was seen right from Day One of the congress, during the opening ceremony. The two bleeding disorders organizations worked together to develop a truly unique format for the event: a very personal panel discussion. NHF Chair of the Board Jorge de la Riva, WFH President Alain Weill, WFH CEO Alain Baumann and NHF CEO Val D. Bias all shared their personal stories and their common goal of supporting those with hemophilia. Many attendees said they found it encouraging knowing that the two bleeding disorders organizations were working together for the good of all patients and families coping with hemophilia and other bleeding disorders globally.
The 2016 WFH Congress featured a robust medical program with sessions on all of the important issues in today's world of bleeding disorders. Those included a look at the extended half-life factor products, innovations in immune tolerance induction for hemophilia and management of inhibitors. Topics also included gene therapy, genomic approaches to bleeding disorders and developments in the understanding of inhibitors. 
Because NHF's Annual Meeting had no medical tracks this year, NHF, as the congress host, successfully applied for several medical educational grants that contributed directly to the World Congress program. The multidisciplinary program covered an equally large number of topics, such as patient care, new extended half-life products and women with hemophilia. It also included the impact of prophylaxis on children, an update on the effect of hepatitis C on patients with hemophilia and aging with hemophilia. Many of the events were eligible for continuing medical education or continuing education unit accreditation; NHF was instrumental in securing accreditation status for those sessions.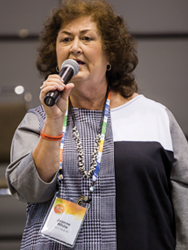 Jeanne White-Ginder became an AIDS
advocate for awareness after her son,
Ryan, died of HIV/AIDS from contaminated
factor product to treat his hemophilia
decades ago.
Many patients and their families shared their stories and experiences during the congress. Jeanne White-Ginder shared her story of becoming a spokeswoman for people with AIDS after her teenage son, Ryan, died of AIDS after contracting HIV from contaminated factor product. Kari Atkinson talked about what it was like for her family when her son, Beau, was diagnosed with hemophilia and an inhibitor. And Gerard O'Reilly spoke of his experience with hemophilia and hepatitis C.
The social program was another highlight at the congress. One particular event stands out: the Host Country Networking Reception at the World Showplace Pavilion at Epcot. The evening featured great food, dancing and a totally unexpected visit by Mickey, Minnie, Donald, Pluto and Goofy. Not to mention the unforgettable grand finale of the Illumi-Nations: Reflections of Earth show.
The WFH 2016 World Congress was a resounding success. The WFH would like to thank all participants and sponsors for their support. A very special thank-you goes to NHF for collaborating with the WFH on many of the key elements that go into offering attendees a rewarding and unforgettable congress experience.