Ushering in a new era of treatment for all
Author: Vanessa Herrick, WFH Communications Manager
When the World Federation of Hemophilia (WFH) announced that a donation of 500 million units of factor had been made to the WFH Humanitarian Aid Program at the WFH 2014 World Congress, hemophilia care worldwide changed in an instant.
Since 1996, this program has sought to bring much-needed treatment products to people in the greatest need. For two decades the program accomplished that goal by distributing approximately 266 million units of treatment to 87 countries in the developing world. However, the WFH was only able to address emergency requests
"Our donations would be used primarily for life-threatening bleeds, such as abdominal or intracranial bleeds," says Assad Haffar, MD, WFH Humanitarian Aid Program director. "What we needed was to provide people with a predictable source of humanitarian aid. Now we have that capability."
With the new influx of this generous supply of factor during the next five years, the WFH Humanitarian Aid Program is poised to make a significant impact in the lives of people around the world. In October, the WFH and its partners Biogen and Swedish orphan Biovitrum AB announced the first recipient countries. They include Dominican Republic, El Salvador, Myanmar and Senegal.
Human Side of Humanitarian Aid
For those in developing countries, the WFH Humanitarian Aid Program is critical to the care and development of their community. "Since meeting with the WFH more than 11 years ago now, the face of hemophilia care in my country has changed," says Megan Adediran, president and executive director of the Haemophilia Foundation of Nigeria (HFN) in Kaduna. "The WFH Humanitarian Aid Program is the reason why there exists a hemophilia community in my country." That's because the program is the major source of treatment products, she adds.
For people with a bleeding disorder in a developing country like Nigeria, access to any sort of treatment is next to impossible. Due to supply issues or the lack of commitment from the government, patients do not receive adequate, consistent treatment.
A New Era of Treatment for All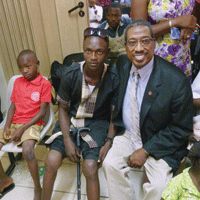 NHF CEO Val D. Bias visits bleeding
disorder­s patients at the National
Hospital in Abuja, Nigeria.
The case of HFN is typical. Before the WFH began signing multiyear donation agreements, the treatment provided by the WFH Humanitarian Aid Program was a temporary solution to a far greater problem. Now with a predictable source of donated factor product, people around the world can count on treatment for more than just emergencies.
Multi-year commitments to the Humanitarian Aid Program allow the WFH to set treatment goals. For instance, with a reliable flow of product, the WFH can set a goal of putting every child under 5 who is in need on low-dose prophylaxis, eliminating the chronic joint damage that plagues many adults later in life.
"We are now in a position to be able to consider providing humanitarian aid for prophylaxis in children, and using this product for surgeries and acute bleeds," says Haffar. "We will be able to reach horizons we could never reach before for children and people needing corrective surgery." This gives the WFH a more complete range of options to work with, and to offer to national member organizations and governments, he says.
Today, with this commitment from humanitarian aid donation partners over multiple years, and with the variety of donations, from plasma-derived and recombinant therapies to enhanced half-life products, there are more treatment options for the bleeding disorders communities that historically have had none.
Distribution
Providing products to people in places like Nigeria, Nepal or Venezuela is a massive task. The WFH could not hope to meet the global demand without the assistance of its network of member associations. Most donations are secured and distributed in collaboration with WFH USA and the invaluable assistance of Hemophilia of Georgia, a nonprofit in the US, and the Irish Haemophilia Society. "We are moving in the right direction, engaging governments and corporate partners to see that the program makes a significant difference worldwide," Haffar says.
But humanitarian aid entails more than transporting medical treatment to a given country. Ensuring comprehensive, sustainable care for a community requires a network of trained professionals and dedicated volunteers to run treatment centers and hemophilia organizations.
The Bigger Picture
The WFH has worked with dozens of local hemophilia societies in the developing world, such as HFN, to strengthen the larger community needed to provide critical care to local patients. For instance, WFH's Twinning Program encourages and supports hemophilia treatment centers (HTCs) and hemophilia organizations around the world. 

NHF and WFH participated in a
Laboratory Technician Training at the
National Hospital in Abuja, Nigeria.
Established almost 20 years ago, the WFH Twinning Program's goal is to improve hemophilia care in emerging countries through a formal, two-way partnership with a hemophilia organization or HTC in an established country for four years. The "twins" work together and share information, resulting in a mutually beneficial partnership. The program provides a viable way to transfer expertise, experience, skills and resources.
In 2013, the National Hemophilia Foundation (NHF) was twinned with HFN. "The twinning with NHF has brought a new angle for development and learning to our community," says Adediran. "In the two years that I have been attending the NHF Annual Meetings, I have met new people in the community who have been a motivation and inspiration for me," she says. In addition, HFN board members have learned more and then contributed more to the bleeding disorders community in Nigeria.
In 2014, the WFH solidified a second twinning rela­tionship in Nigeria between the Hemophilia Treatment Centre in Abuja (Nigeria) and the Hemophilia and Thrombophilia Treatment Center at Rush University Medical Center in Chicago.
Long-term Impact
Sustainable and long-term treatment in a country requires the support of the local government and officials. One key aspect of the WFH Humanitarian Aid Program is that a new influx of treatment products has the power to show governments what a proper investment in treatment for people with bleeding disorders can do. "In my country, people, and especially governments, do not know anything of bleeding disorders or do not have the will to help," says Adediran. "Now we can show them that treatment helps to not only save lives but also, with predictable aid, it can improve life."
Treatment for All, a Vision for All
The WFH Humanitarian Aid Program is critical to helping the international bleeding disorders community achieve its shared goal of diagnosing and consistently treating all people with a bleeding disorder, no matter where they live. This would not be possible without our partners, supporters and volunteers.