On May 19, 2016, more than 200 people gathered at Current at Chelsea Piers to celebrate the honorees of the National HemophiliaFoundation's (NHF) Spring Soiree. The Spring Soiree is NHF's premiere gala, providing the forum for the foundation to honor people and business partners who have had a powerful impact on the bleeding disorders community.
The Leadership in Research Award was given to two recipients: Bruce A. Luxon, MD, PhD, and Christopher E. Walsh, MD, PhD. Luxon is professor of medicine at Georgetown University and holds the Anton and Margaret Fuisz Chair. His research has focused on chronic liver disease. Recently he has been involved in multiple clinical trials evaluating the new direct-acting antiviral agents to treat hepatitis C.
Walsh is the associate professor and director of the hemophilia program in the division of hematology and medical oncology at the Icahn School of Medicine at Mount Sinai Hospital in New York. He pioneered the research on adeno-associated viruses (AAVs) and their first use as a gene therapy vector (vehicle to deliver genetically engineered factor product into the body). 
Gilead Sciences was presented with the Corporate Impact Award. The company manufactures Sovaldi® and Harvoni®, two drugs that have been used to successfully clear people of hepatitis C. Gregg Alton, executive vice president, corporate and medical affairs, accepted the award for Gilead.
Option Care, a specialty pharmacy, received the Corporate Leadership Award. It has sponsored many national and chapter programs, notably the Hemophilia Walks. Jan Couden, national program director, bleeding disorders, accepted the award.
NHF also honored Dawn Pollard and Bob Fieber with the Inspiration Award. Both of Dawn's brothers were born with severe hemophilia. Her brother Michael passed away at 22 months after a head bleed; Kurt passed away in 2009 at the age of 50. Dawn and Bob have devoted tremendous energy and effort to the bleeding disorders community. Dawn currently serves as president of the Board of Directors of the Hemophilia Foundation of Northern California (HFNC) and provides support to HFNC's Camp Bold Eagle, a camp in Ypsilanti, Michigan. Dawn and Bob have committed future funds to HFNC and NHF to support Camp Bold Eagle and to advance scientific research for treatments and cures.
The soiree raised $365,000 for the foundation. Proceeds from the Paddle Pledge, a request for donations held during the award ceremony, raised $30,000 for NHF's Connections for Learning program. Connections for Learning provides the opportunity for families to attend NHF's Annual Meeting who might otherwise not be able to. There they receive valuable education and support.
"I applaud the achievements of all of our honorees," says NHF CEO Val D. Bias. "All are life changers."
NHF is grateful to Champion sponsors Gilead Sciences, Inc., and Option Care; Visionary sponsor Baxalta, part of Shire; Hero sponsors Biogen and Novo Nordisk; and Leader sponsors CSL Behring and Genentech for their support.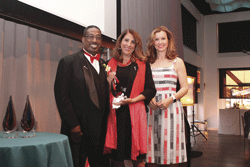 Joan Couden (pictured above, standing between
NHF CEO Val D. Bias and emcee Jodi Applegate)
accepted the Corporate Leadership Award
honoring Option Care's support of the bleeding
disorders community.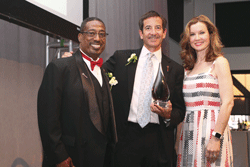 Gilead Sciences was honored with the Corporate
Impact Award for its work on hepatitis C drugs.
Gregg Alton (pictured above, standing between
Val D. Bias, NHF CEO, and emcee Jodi Applegate)
accepted the award.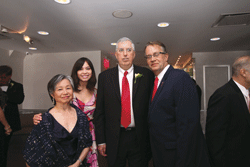 Christopher Walsh, MD, PhD, received the
Leadership in Research Award. With him are
his wife and daughter, and Neil Frick, MS,
from NHF.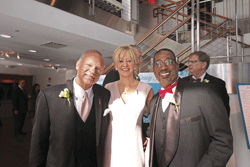 Bob Fieber and Dawn Pollard (pictured
with Val D. Bias, NHF CEO) were given
the Inspiration Award for their lifetime
of philanthropy.