Washington Days trains advocates, then sends them forth
Author: Beth Marshall
Nearly 350 members of the bleeding disorders community gathered in Washington, DC, February 24–27, for NHF's annual advocacy event, Washington Days. The event gives people with bleeding disorders and their family members an opportunity to meet with their elected representatives to discuss issues that are critical to the bleeding disorders community.
This year, NHF asked attendees to advocate on three issues. The first was maintaining funding for the federal hemophilia programs at the Maternal and Child Health Bureau and the Centers for Disease Control and Prevention. The second was supporting potential legislation to have clotting factor paid separately, rather than in the bundled payment, for skilled nursing facilities (SNFs). The last was gathering sponsors for the Patients' Access to Treatments Act (PATA), which would protect clotting factor from being moved onto a specialty formulary tier that would require patients to pay exorbitant cost sharing.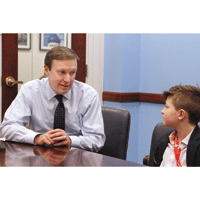 Sen. Chris Murphy (D-CT) shares a
moment with 8-year-old Devin Banks
of Weston, Connecticut.
Wednesday night, attendees received helpful training before their Capitol Hill visits the next day. NHF's public policy team and lobbyists provided an in-depth presentation of the issues, a short "dos and don'ts" video and tips on using social media to connect with lawmakers. That was followed by a lively question-and-answer period.
To meet the needs of its young adult community, NHF launched the Youth Advocacy Summit for 18- to 24-year-olds. The group discussed how to advocate and take responsibility for themselves and their bleeding disorder at home, at school and at work. The new endeavor was sponsored by a Local Empowerment for Advocacy Development (LEAD) grant from CSL Behring.
Chapter leaders from states with multiple chapters gathered to discuss how to effectively work together on local issues affecting their community at the Regional Advocacy Center Luncheon, sponsored by Novo Nordisk.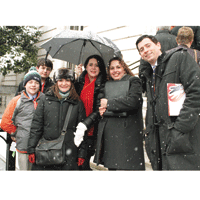 A few inches of snow didn't faze the
Massachusetts advocates as they
rallied for their first meeting of the day.
After the visits, advocates enjoyed a State Advocacy Recognition dinner. It put the spotlight on successes made by local chapters in their state advocacy program. NHF is grateful to Novo Nordisk for its support of the dinner.
"It's important for the bleeding disorders community to advocate at the national level, but state advocacy is becoming increasingly important," says Michelle Rice, NHF vice president for public policy and stakeholder relations. During the state advocacy training, chapters got tips on working with state legislators to protect the community's access to care and affordable medications in the changing healthcare environment.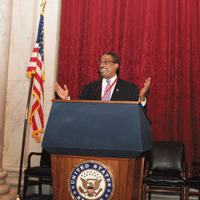 NHF CEO Val D. Bias urged advocates
to share their personal stories during
Thursday's keynote address.
Since NHF advocates met with their elected officials in February, the PATA bill has been introduced in the House by Reps. David McKinley (R-WV) and Lois Capps (D-CA). As of April 22 it had 66 co-sponsors. Rep. Aaron Schock (R-IL), the congressman who was planning to introduce the SNF legislation, has since left Congress. NHF's Washington-based staff has been meeting with many of the legislators who expressed an interest in introducing the bill. The SNF bill should be introduced in the House in May.
"When you all come together and speak with one voice, you can accomplish great things," said NHF CEO Val D. Bias to a packed room of attendees at Washington Days 2015.