Held in Washington, DC, the gathering drew nearly 3,000 attendees
Author: Beth Marshall
The bleeding disorders community is a diverse one: There are parents ­startled by the diagnosis of an unexpected disorder in their newborns; men who have battled not only hemophilia, but also HIV and hepatitis C; women who face specific concerns relating to their own disorder; teenagers; ­siblings; and caregivers—each facing his or her own unique challenges. And each year, the National Hemophilia Foundation (NHF) works to construct an event that provides education and support for these diverse per­spectives while seeking to unite them in a shared experience: the NHF Annual Meeting.
The 66th Annual Meeting, held September 18–20, 2014, in Washington, DC, drew close to 3,000 people to the nation's capital. It provided more than 60 sessions for people with bleeding disorders and their families, healthcare providers and chapter staff. Families who were new to the community had an opportunity to get to know each other at the New Families reception, and get an overview of what to expect from the Orientation and Welcome session. Women with bleeding disorders attended sessions on dealing with menopause and other aging issues, and finding creative outlets for managing stress. There were also sessions on emerging treatment therapies for hemophilia and hepatitis C. Several "Ask the Expert" sessions provided a safe environment for attendees to ask questions of medical providers on inhibitors or in Spanish.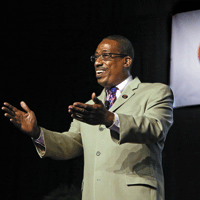 NHF CEO Val D. Bias welcomes
the crowd to the 66th Annual
Meeting's opening session.
The theme of the Annual Meeting was "Nothing About Us Without Us." This underscored NHF's mission to play a lead role in decisions affecting the bleeding disorders community, from health insurance issues to access to new treatments. The legacy of how the bleeding disorders community came together 20 years ago when faced with the devastating consequences of the HIV/AIDS crisis was showcased in the session "Celebrating 20 Years of Blood Safety and the Ricky Ray Act." It featured a panel of many of the key players who were instrumental in the passage of the Ricky Ray Hemophilia Relief Fund Act of 1998, which compensated people who had contracted HIV through contaminated factor products and their families. Among the esteemed panelists was Donna Shalala, PhD, former secretary of Health and Human Services under former president Bill Clinton.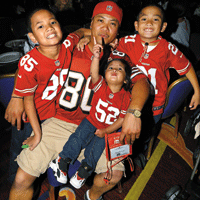 John de Leon (center) and his kids
Kevin, Anthony and Blaise are ready
to blast off to the Final Night Event.
The artistic side of the bleeding disorders community was given special focus by the inclusion of the "Blood Work" art exhibit, a showcase of creative expression. The exhibit featured paintings, photographs, drawings, videos and music. There were also several sessions devoted to the creative arts, including one on art therapy, another on using storytelling techniques to help frame difficult aspects of one's life and one for teens providing hands-on music therapy.
A teen track had a full day of ­sessions focused on topics such as social media, disclosure, dating and preparing for the next phase of young adulthood.
The meeting was capped off by a trip through the history of flight: a final-night party at the Smithsonian's National Air and Space Museum. There attendees journeyed from the first flight at Kitty Hawk, North Carolina, all the way to the moon through interactive and educational exhibits.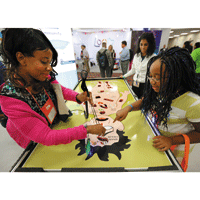 Tina Lamell and Lovie Lamell-Kay
perform a delicate operation
during the opening of the
Exhibit Hall.
NHF is grateful to Platinum sponsors Baxter, Bayer Healthcare, Biogen Idec, Pfizer Hemophilia and Novo Nordisk, and to Gold sponsor CSL Behring for their support.
Join us August 13–15, 2015, as we put our "boots on the ground" in Dallas, Texas, at NHF's 67th Annual Meeting.