Know your other health insurance options
Author: David Linney
Information in this article comes from America's Health Insurance Plans and the Wisconsin Office of the Commissioner of Insurance booklet "Guide to Long Term Care."
Articles about insurance in HemAware typically focus on health and drug coverage, but there are other types of insurance that are also important. This article will provide general background information on two of these: disability income insurance and long-term care insurance.
Disability Income Insurance
If you become disabled and cannot work, you will likely need replacement income to support yourself and your family. In planning for this, you should know the amount of income you will need and your disability income options. Disability income insurance is one possibility. Others include worker's compensation, veterans' benefits, union benefits, auto insurance and Supplemental Security Income.
Disability income insurance helps pay living expenses to individuals who become sick or injured and are unable to work. It can be obtained through private purchase, an employer or Social Security.
Individual Long-Term Disability (LTD) Insurance: Individuals with chronic conditions, including bleeding disorders, are usually not eligible to purchase an individual LTD policy. Insurers typically exclude individuals with expensive, higher-risk medical conditions through medical underwriting. If a policy can be purchased, it will likely be at higher cost with restrictions. When considering an individual plan, review the following: eligibility for an individual with a bleeding disorder; the extent of disability necessary to qualify for benefits; how income benefits are calculated; and when benefits begin and end.
Employer Disability Insurance: Employers are not required to provide LTD insurance to employees. However, almost half of all midsized to large employers do. Benefits typically include income replacement for 60% of your salary. Benefits begin after sick leave and any short-term disability benefits have been used; they generally extend from five years to life. Often, LTD insurance is paid in full by employers (and is therefore subject to income tax). Because individual LTD insurance is usually not available, considering an employer plan is important. Contact your employer to review your disability benefits, including sick leave; short-term disability; long-term disability; and ability to convert the group LTD plan to an individual plan when employment terminates.
Several states, including California, Hawaii, New York, New Jersey and Rhode Island, have laws that require most employers to provide shorter-term disability benefits.
Social Security Disability Benefits: Social Security provides disability benefits to workers who become disabled. To be eligible, an individual must meet a medical Listing of Impairment for disability and be unable to perform any substantial gainful employment for a period of at least 12 months. If you have hemophilia and had been working (despite your hemophilia) and have since stopped working, you need to show how your hemophilia and any other medical conditions have worsened to potentially qualify you for disability benefits. A diagnosis of hemophilia by itself does not qualify an individual for disability. The Listing of Impairment requires that an individual have at least three spontaneous bleeds requiring "transfusion" in the five months prior to adjudication. In its determination of disability, Social Security considers other medical conditions in addition to hemophilia, as well as your ability to function.
Benefits include a monthly check (beginning the sixth month after you are determined disabled) and Medicare (beginning two years after you are eligible to receive your first check). Monetary benefits are determined based on earnings and number of years as a vested Social Security worker. Note that it takes many months for Social Security to process a disability application.
The amount of employer or individual long-term disability benefits may be reduced by payments from Social Security Disability or other government programs.
Long-Term Care (LTC) Insurance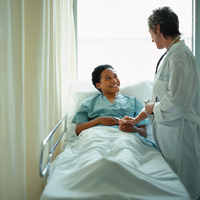 LTC insurance refers to an insurance plan that provides special coverage for individuals with a chronic illness or disability who are unable to care for themselves during an extended time period. Policies cover care in a nursing home and usually in the person's home, and sometimes in an assisted living facility.
Medicare and commercial health insurance typically only provide coverage for short-term care after a hospitalization or an acute illness. LTC insurance provides coverage for longer-term care.
Medicaid also provides benefits for nursing home care and approved home healthcare services and may cover assisted living care. However, the problem in qualifying for Medicaid is that an individual must have very low income and assets, which involve special rules about "spending down."
Because LTC insurance is very expensive and requires a long-term financial commitment, it is important to review your need for it, your ability to afford it and the benefits of any plan offering. In reviewing your need, consider this bit of data from the Centers for Disease Control and Prevention: of the approximately 38 million people age 65 or older, approximately 1.3 million are in a nursing home at any one time.
Individual LTC Insurance: Individuals with chronic conditions, including bleeding disorders, are usually not eligible to purchase an individual policy. This is because insurers typically exclude individuals with expensive, higher-risk medical conditions through medical underwriting. If a policy can be purchased, it will likely be at a higher cost with restrictions.
Group LTC Insurance: Most are commonly offered through employers and should be investigated. Note that when employment terminates, an individual may be able to convert the group plan to an individual plan.
LTC Insurance Considerations: Review information about any LTC policy you consider, including:
Eligibility for individuals with a bleeding disorder (for individual plans);
Premium costs;
Daily benefits, length of benefits and benefit limitations in nursing home, assisted living and home care settings;
Elimination (i.e., waiting) periods;
Pre-existing condition clauses;
Inflation protection option;
Exclusions; and
The ability to convert to an individual plan (for group plans).