NHF's Washington Days provides opportunities to connect with legislators and learn life lessons
On March 7–9, 2018, hundreds of people from around the country converged on Washington, DC, for the National Hemophilia Foundation's (NHF) Washington Days. The three-day advocacy event brings people affected by bleeding disorders face to face with their Congressional representatives to advocate for federal support on critical issues. It's a powerful forum that leaves a lasting impression on both legislators and advocates.
For Jacey Gonzalez, 19, a student at the University of Nevada, Reno, Washington Days is a happy blur. "It's the best experience of your life, but you will be trying to remember it all later because so much happens in so little time," she says.
Before swarming Capitol Hill, all volunteer advocates are trained on how to communicate clearly about bleeding disorders, and policy experts detail the event's essential messages and "asks" to convey to legislators. On the Hill itself, it's a whirlwind of meetings with representatives, senators and their staff members, a chance for advocates to tell their stories and personalize the issues.
"Washington Days is a stepping stone for anyone who wants to get more involved with the bleeding disorders community," says Gonzalez, who has von Willebrand disease and delta storage pool deficiency, a platelet function disorder. The 2015 event introduced her to NHF's National Youth Leadership Institute (NYLI), a three-year program for young adults ages 18–24 that offers leadership training and opportunities to facilitate workshops and educational programs. Gonzalez is now in her final year of the program and for the past two years has participated in NYLI's specialty track focused on advocacy (the other two NYLI tracks are outreach and nonprofit development).
Power in numbers
Matthew Delaney, 20, a junior at the State University of New York at New Paltz, calls Washington Days a "transforming" experience. "Everyone has their own story to bring," he says. "But we need everyone to come and share their voice. Because the more voices we have, the more power we have."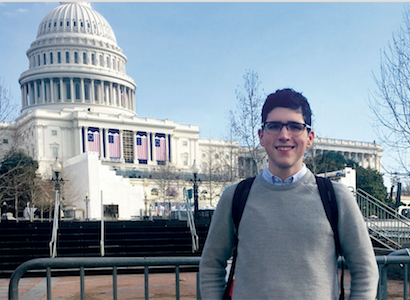 Delaney, who has von Willebrand disease and Glanzmann thrombasthenia, a platelet aggregation disorder, is also in his third year in the NYLI program and a member of the advocacy track. Both he and Gonzalez find that events like Washington Days build personal confidence and community connections.
"Just going to Washington Days and being involved and being around a bunch of supportive community members really helps get you to that point where you're confident in being an independent person with a bleeding disorder," Gonzalez says.
• Learn more about Washington Days.
---
Beyond Washington Days: The critical role of state advocacy
While Washington Days may be the premier event on the national bleeding disorders advocacy calendar, not everyone is able to make the trip to Washington, DC. Plus, getting involved closer to home may have an even greater impact. "So much of healthcare policy is actually implemented at the state level," says Brendan Hayes, a government relations specialist at NHF who manages the NYLI advocacy track.
NYLI advocacy track member Jacey Gonzalez, who participated in Nevada Days at the state capitol in Carson City, says that at state legislature days "usually it's a more relaxed vibe." Longer conversations with representatives, she says, can lay the groundwork for ongoing dialogue.
In Albany, New York, NYLI member Matthew Delaney says that it is easier to establish relationships with state legislators compared with Congress members and that policy-making is generally a lot faster than in Washington.
Contact your local chapter to learn more about advocacy days in your state.