Leveraging resources, securing funds
Author: Leslie Quander Wooldridge
In his 30-plus years as a career counselor, Don Molter has seen students earn thousands of dollars in financial aid—or none at all. Those who reap the financial aid windfall have to put in effort, though, including getting good grades.
Securing aid is more important than ever, because college costs continue to rise, says Molter. In fact, in a 2013 report, the US Department of Education estimated for the 2011–2012 school year that annual prices for undergraduate tuition, room and board were $14,300 at public institutions, $37,800 at private nonprofit institutions and $23,300 at private for-profit institutions. However, student loan limits are typically capped at a much lower figure, so access to additional aid is important, Molter says. He has worked at the Indiana Hemophilia & Thrombosis Center in Indianapolis for 10 years.
You'll have a better chance at securing funds if you take the following actions:
Prepare early. Ideally, you've been buckling down academically since middle school. That's the age at which you are first eligible for many awards, Molter says. "Get practice writing essays. You need to start grooming yourself for scholarships early on," he adds. If you haven't started your search yet, do so quickly. Waiting until junior or senior year could be too late. "If you're not ready, it could mean having to get a lot of loans or even not going to school at all," he says.
Do a diverse search. Scholarships are often given for merit or financial need, so be open to either type. Always fill out a Free Application for Federal Student Aid (FAFSA), even if you're not sure that you're eligible. The application opens January 1, 2015, and the deadline is March 10, 2015. If you qualify for federal aid, accept everything you are offered initially, Molter says. You have until about July to make a final decision. Fastweb.com also is a good research source. Further, the National Hemophilia Foundation's (NHF's) website hemophilia.org has a list of scholarships for which you may qualify. Molter also advises that you meet with your school guidance counselor and a social worker at your hemophilia treatment center (HTC). You may even be able to qualify for work-study programs; a federal Pell Grant, which does not have to be repaid; and/or state aid. And don't be afraid to apply to private colleges. Many have internal merit-based scholarship programs, which can reduce costs, Molter says.
Watch out for scams. You should never have to pay to apply for scholarships, Molter says. Also apply for aid from accredited schools. These are schools approved by an accrediting agency, a nongovernment agency that reviews schools in a particular region or subject area.
Try to avoid schools that exist only for profit. They typically don't accept federal grants and prefer private loans, says Molter. Some admissions marketing staff also can work on commission, so they may not offer the most reliable educational advice, he adds. "Ask your local accredited college or university if it accepts transfer credits from the school in question," he advises. "If a particular school doesn't offer a four-year degree, stay away from it until you confirm that credits would transfer," he says. "When it sounds too good to be true, it always is."
Avoid private loans. Skip private loans when possible because they have higher interest rates, Molter says. If private loans are your only option, you may want to consider starting your college career at an accredited community college and switching to a four-year school after a couple of years. "Live at home; learn to be a college student," Molter advises. "You might save yourself $15,000 a year."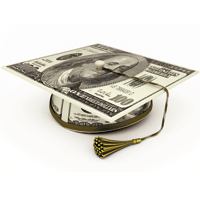 stock_shoppe/Thinkstock
Remember pharmaceutical funding. Drug companies offer scholarships to students with hemophilia and other bleeding disorders, but you must earn them, Molter says. "Industry wants a well-rounded student," he says. (See sidebar below, "How to Be a Well-Rounded Applicant.") "Companies want you to shine. You need to have at least a 3.2 to 3.5 grade point average." Industry scholarships can be particularly helpful. They tend to span four years and can range from $1,000 per year to about $15,000 per year, Molter says. Visit NHF's website and see which scholarships are available in 2015.
When you're dealing with a bleeding disorder, you may already have a lot on your mind. But try not to focus only on college costs. You have many options for aid. Just apply yourself and remember to start your research early.