NHF spokesperson Alex Borstein found success, levity in comedy
Author: Kadesha Thomas Smith
If the name Alex Borstein doesn't sound familiar, maybe these do—Ms. Swan from FOX's MADtv and Lois Griffin from FOX's Family­ Guy. If you know those characters, then you know Alex Borstein.
Borstein played Ms. Swan starting in 1997, shaping the character into a cross between her grandmother and the eclectic Icelandic rock musician Björk. A year later, she starred on the animated sitcom Family Guy. Borstein is the voice behind Lois Griffin's nasal Long Island accent. She plays the patient homemaker to a husband who takes slothfulness to another level, the mother of an infant with a perfect IQ and the owner of a dog who has a crush on her. Borstein gave the character the ability to seamlessly flip from passive-aggressive back to perfection. And no, she doesn't really talk like that. 
Borstein's sassy and sometimes lewd humor stems, in part, from her experience growing up in a family affected by hemophilia. Now, she can add another role to her résumé: the National Hemophilia Foundation's (NHF's) new spokesperson for genetic testing. "So much of raising a child is out of your control," says Borstein, who lives in California. "I want to encourage families to be prepared."
The bleeding wouldn't stop
Before having children, Borstein's mother didn't know she was a carrier for hemophilia. Her brother, Borstein's uncle, had unexplained bruising and swollen ankles when the siblings were growing up in Budapest, Hungary, in the 1940s.
Doctors didn't know the cause of Borstein's uncle's injuries. "They said he had 'some kind of bleeding disorder,'" Borstein says. "He was in pain all the time."
Borstein's mother and her family left Budapest for the United States during the Hungarian Revolution in the late 1950s. She married Borstein's father in 1964 and settled down in Chicago to start a family. The couple's first son showed no signs of a bleeding disorder.
Three years later, a second son was born. As a Jewish family, the Borsteins held a ritual circumcision ceremony for him. But the bleeding wouldn't stop. That's when doctors diagnosed Borstein's brother with moderate hemophilia A. Borstein was born two years later.
"Aside from that circumcision, I don't think my parents knew what life was like raising a child with hemophilia until he was older," says Borstein.
Laughter eases the tension
Borstein's brother's injuries were so frequent that they seemed to occur monthly, she says. "My grandmother used to say that the world was such a messed-up place because God was too busy taking care of my brother."
The family's stress was multiplied by the fact that Borstein's brother wanted to keep his bleeding disorder a secret. "He was afraid that if anyone knew, he'd be a pariah," Borstein says. To fit in with his peers, Borstein's brother engaged in the same activities as other kids, which led to even more injuries.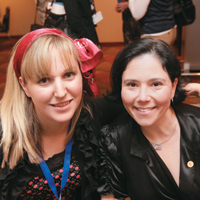 Alex Borstein (right) at NHF's
2011 Annual Meeting, with
Taylor Esheleman, RN, from
Batavia, Illinois.
The mood in the Borstein household was regularly filled with angst, as the family circle dealt with the cycle of ­Borstein's brother getting a new injury or recovering from one. After the family moved from Chicago to Los Angeles when Borstein was about 10 years old, she put herself in charge of breaking the tension—with jokes. During her brother's infusions, Borstein poked fun that he was "shooting up." Then, she'd take the syringe, fill it with water and squirt it at him. When her brother was in a wheelchair in the hospital, Borstein would grab another wheelchair and race him down the halls.
In another stunt, Borstein and her oldest brother tied the frame of her other brother's wheelchair to the garage door handle. They cracked up laughing as they watched him roll down the driveway until the rope was taut.
Around age 13, when Borstein started experiencing menorrhagia (long, heavy periods), a blood test revealed her ­factor level was low and that she was a carrier for hemophilia A.
But Borstein's struggles were minor compared to her brother's. After a fall, Borstein's brother had a head injury so bad that doctors told the family he might not make it. "My job was to make him feel like everything was OK and not take everything so heavily," Borstein says.
That's when Borstein noticed humor could ease even the thickest tension. In high school, she decided comedy would be not only her coping mechanism, but also potentially her career.
Starting with stand-up
The rigid structure of high school stifled Borstein's creative side. So, she entertained herself and her classmates with one-liners. Then, a teacher challenged her to take the antics to a real stage, like the school's drama club. After she joined the club, Borstein used the lunchtime performances to entertain people with her own written material.
Eventually Borstein got bold enough to pursue her first stand-up gig at a local bar. To help maintain her brother's privacy, her stand-up act never included her own or her family's experiences with hemophilia.
Facing carrier status
After majoring in rhetoric at San Francisco State University and working as a copywriter at an ad agency, Borstein joined ACME Comedy Hollywood in 1994. There, she wrote and performed sketch comedy each week. She also met her husband, Jackson Douglas, now known for his role as Jackson Belleville in the WB television show Gilmore Girls.
Borstein and Douglas waited 10 years before starting a family. Part of the reason was that their careers had taken off. The other reason was Borstein's apprehension that the baby would have hemophilia. "In my industry, who knows when I'll have health insurance," Borstein says. "I knew firsthand how often we could end up in the ER."
But the medical costs were not Borstein's main concern. Her real worries were her ability to take care of a son with hemophilia and her own guilt. "I was scared to deal with the guilt of it, the anger that my son might have toward me later," Borstein says.
As Borstein and Douglas discussed having children, they decided to explore what life was like for other families with children who had hemophilia. They visited summer camps for children with bleeding disorders and attended conferences, where they interviewed families on camera.  In hopes of one day producing a documentary, Borstein has kept the archive of more than 100 interviews.
Borstein talked with many mothers who struggled with feelings of guilt about passing hemophilia onto their sons. Some families talked about how the condition had brought them closer together. Certain children were angry about having hemophilia; others said it made them stronger, even special.
When Borstein got pregnant, she and Douglas opted to have the fetus tested for gender and chromosomal abnormalities. That way, they could arm themselves with the facts before their child was born. Doctors did a chorionic villus sampling (CVS) test at 11 weeks' gestation. CVS involves taking a cell sample from the placenta, which has the same DNA as the fetus.
A few days later, the nurse called with the first result: It was a boy. Their reaction: "Oh, no," Borstein says. "The nurse probably thought we were evil, heartless jerks who just wanted a girl."
The next step was to wait for results to confirm if Borstein's baby had hemophilia. "The results took so long, I started researching how we would raise a child with hemophilia," Borstein says. That's when she found NHF's website, accessing the information online and poring over the pages. Borstein reached out to other mothers in the First Steps chat room and began preparing herself.
When the results came back, Borstein and Douglas were relieved—their child would not have hemophilia. Their son was born September 8, 2008.
Championing genetic testing
Earlier this year, NHF announced its involvement in the new genotyping initiative, My Life, Our Future. Its purpose is to educate people with hemophilia on the benefits of genetic testing, offering them free or low-cost genetic testing services.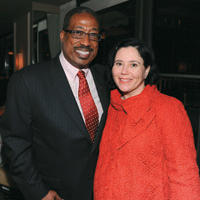 Patrick McMullan
Val D. Bias, NHF's CEO,
with Alex Borstein.
"Through funding and partnerships we've created, this opportunity has been opened at little to no cost to members of our community," says Val D. Bias, NHF CEO.
This fall, Borstein will assume her new role as NHF's spokesperson for the genetic testing initiative. Previously, she was NHF's Victory for Women spokesperson, championing the needs of women affected by bleeding disorders. "Alex Borstein has a deep passion about genetic testing for bleeding disorders," says Bias. Unlike other celebrities who need crash courses on the health conditions they advocate for, Borstein is familiar with the community's issues, he says. "She already has a complete understanding of what life is like with a bleeding disorder.
"That understanding—plus the humor she brings—helps make the issues that come with having an intense, severe chronic disease more palatable for people to hear and understand."
Borstein began raising her voice about genetic testing the day she learned she would become a mother. "What I like about NHF's genotyping initiative is that it's being pushed for the bleeding disorders community by the community, not some outside entity," she says. "We're taking hold of our own power over this disease." Borstein will speak at NHF's Annual Meeting, October 3–5, in ­Anaheim, California, and at a Halloween comedy fund­raiser for NHF on October 30 in New York City.
Borstein lives by the adage that knowledge is power. "If you can arm and prepare yourself, those are the responsible things to do," she says. She still has to deal with bleeding disorders in her family. Her 1-year-old daughter is a carrier. "I hope and pray that when she has a child, there are even more options because research has advanced," says Borstein. "And a cure would be fantastic."