NYLI training promotes leadership skills
Author: Beth Marshall
Members of the National Hemophilia Foundation's (NHF's) National Youth Leadership Institute (NYLI) learned valuable leadership skills during a training program in New York City on April 12–14.
"The goal of the NYLI is to create leaders in the bleeding disorders community, polished individuals who can share their story and advocate for change," says Ayana Woods, NHF's director of education. The April training session offered professional advice, media training and meetings with NHF staff to learn more about the foundation. It included the opportunity to volunteer at the New York City Hemophilia Chapter (NYCHC).
Ben Shuldiner, Hunter College's Distinguished Lecturer of Education Leadership, spoke to the 18 youth who attended the training. Shuldiner, who has hemophilia B, founded the High School for Public Service in Brooklyn in 2002, where he served as principal until early 2013. He is a member of Connect for Bleeding Disorders, NHF's young professionals group. Shuldiner gave advice on resume building, as well as tackling the topic of disclosure in the workplace. 
Mario Nacinovich, managing partner at AXON Communications, worked with attendees on media training. He instructed the attendees on how to present oneself professionally, including how to phrase answers to interview questions, how to dress and how to avoid common pitfalls. He also had the group practice mock interviews. "We hope that our NYLI members will become spokespeople for the bleeding disorders community in the future," says Woods. "So it's important that we give them concrete skills to help."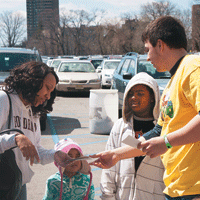 NYLI member Carson Ouellette, 20,
distributes a "passport" to guests of
the New York City Hemophilia
Chapter.
Lauren O'Doherty, 19, was challenged by the training. "The mock interviews were a little outside of my comfort zone," says the NYLI member from Denton, Texas. "But that's what allows us to grow as professionals and individuals."
The youth leaders then volunteered with the NYCHC. They gathered with about 375 people from the chapter at the Bronx Zoo for a day of education and fun. NYLI members conducted an educational program based on World Hemophilia Day. They used mock passports and quiz questions that taught attendees about efforts to improve hemophilia care around the world. "NYCHC is very proud to have had this opportunity to contribute to the development of the future leaders of the community," says Glenn Mones, executive director of the chapter.
It's important for NYLI members to understand the value of volunteering, says Woods. "Part of becoming a leader is to know the importance of giving back to the community."
Interacting with children with bleeding disorders made Doherty feel like a positive role model for young people in the community. "The Bronx Zoo in itself made for an amazing time, but it was the connection to the New York community that made it the most memorable day," she says.