Understanding Medicare for your hemophilia
Author: David Linney
Note: Medicare is the nation's largest health insurance program, covering nearly 40 million people. Medicare provides coverage for people 65 and older, some people with disabilities under age 65 and people of all ages with end-stage renal disease. This article will deal only with Medicare coverage for people age 65 or older.
General Coverage Information About Medicare
As people grow older and approach age 65 or consider retirement (at whatever age), it becomes important to obtain long-term health insurance coverage. This is because as you age, insurance plan options become more limited and focus primarily on Medicare. Understanding Medicare benefits and how and when you should sign up for them is based on your employment and retirement plans.
All US citizens become eligible for Medicare when they turn 65 and should sign up three months before they turn 65 years old. Medicare includes Parts A, B and D or Parts C and D:
Part A (Hospital insurance)
Part B (Medical insurance)
Part C (An HMO or PPO plan that includes Parts A and B, also called a Medicare Advantage Plan)
Part D (Prescription drug coverage)
Part A does not need to be purchased. Check with Medicare to verify the current year's monthly Part B premium cost. Part C and D monthly premium costs will vary based on benefits provided for particular plans. Enrollment in Parts B, C and D may be delayed if you continue to be covered by employer insurance beyond age 65.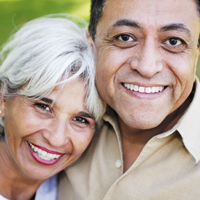 In addition, there is Medigap insurance, a supplemental plan to Medicare that helps pay the Medicare Part A and Part B deductibles and co-insurance. Supplemental coverage under Part B is particularly important because it covers only 80% of approved costs. Such plans can be provided by some employers for retirees or through a spouse's employer insurance. More commonly, such plans are purchased individually. The federal government certifies various standard Medigap coverage plans for purchase. Specific Medigap plans are offered by insurance companies and administered through respective states.
If you are enrolled in a Medicare Advantage Plan (i.e., Part C), however, you don't need and can't buy a Medigap policy. Note, too, that you have to use medical providers (i.e., doctors, hospitals, physical therapists) who belong to the plan.
Enrollment in Medicare Parts A, B, C and D as well as Medigap plans must be done in a timely manner, or a penalty can be imposed. Time of enrollment will depend upon age, continued work status and any employer-provided insurance benefits.
[Steps for Living: Health Insurance]
Medicare Coverage Information for People with Bleeding Disorders
Medicare coverage through Parts A and B is generally very good, as long as you also have a good Medigap policy in place.
Home infusion of clotting factor concentrates is covered under Part B and not under Part D. Coverage is generally very good, if you have a good Medigap policy in place as well.
Coverage for home care and outpatient clotting factor concentrates can be problematic under Part C because it may be limited to 80%. You may be responsible for 20% of the cost as Medicare Advantage Plans establish their own benefit structure.
Drug coverage  under Part D can  result in high out-of-pocket costs if you have high prescription costs outside of

­clotting factor

, i.e.,

HIV

and

hepatitis C

treatments. Medicare drug plans have formularies and many have different tiers of coverage. Those plans with tiered coverage have the lowest co-payment cost for generic drugs and the highest co-payment or co-insurance cost for specialty drugs.
Clotting factor concentrates are currently not covered in a nursing home or assisted living setting. This poses a major coverage problem as well as a medical care problem for seniors and those with disabilities, and it will pose an even greater overall problem as our population ages and grows. This problem is being addressed by the

National Hemophilia Foundation

's

Medical and Scientific Advisory Council

.