Leadership program provides exceptional opportunities
Author: Leslie Quander Wooldridge
A youth leadership program offered by the National Hemophilia Foundation (NHF) is helping the next generation of bleeding disorders advocates connect with communities. "I wanted a way to get involved with the bleeding disorders community," says ­Ashley Long, 19. The native of Buffalo, New York, whose father has severe hemophilia A, was diagnosed as a symptomatic carrier in 2012. After years of receiving care from her local hemophilia treatment center (HTC), Long wanted to give back. NHF's National Youth Leadership Institute (NYLI) provided just the opportunity she was looking for. Long was accepted in 2014.
NYLI is a three-year program that gives young adults (18 to 24 years old) tools and training to encourage personal growth, effect change and positively influence others. In 2015, a record number of candidates applied—more than double the ­previous year—vying for eight openings. "The goal is to get participants connected to chapters," says Grant Hiura, NHF's education specialist. 
The 24 NYLI participants help members of the bleeding dis­orders community at the local and national levels. During their second year, they select one of three tracks: Outreach, Advocacy or Non­profit Development. 
Leadership trainings
In 2015, members took part in six trainings, including one at NHF's office in New York City, another at the Washington Days advocacy event and one at NHF's Annual Meeting in Dallas. Participants in the Outreach Track led workshops from NHF's Steps for Living and Artistically Speaking programs at six chapter events. Those involved in the Advocacy Track completed webinars to gain a thorough understanding of advocacy basics, as well as NHF's state and federal priorities. Those in Nonprofit Development attended NHF chapter board retreats and regional seminars.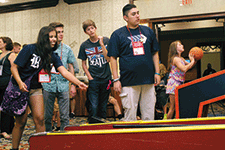 NYLI's Teen Reception at NHF's 2015 ­Annual
Meeting provides fun and games.
Long says she's looking forward to choosing her track this year. She already serves on her chapter's board, one of four NYLI members to do so. Fellow NYLI participant Cristina de la Riva, 23, whose brother has severe hemophilia A, is in the Advocacy Track and attended leadership training at NHF's headquarters. 
After developing communication and leadership skills that benefit them in school and the workplace, members are given the opportunity to attend national events, such as NHF's Washington Days. "We go to Capitol Hill to essentially be foot soldiers, letting our representatives know what families deal with and why treatment centers are important," de la Riva explains. 
Perhaps what is most impressive about NYLI is how participants carry out program goals, even while attending school and holding jobs. "It's a time commitment," admits Long, who is studying pre-med and hopes to become a physician's assistant in hematology. "But it's a once-in-a-lifetime opportunity. I wouldn't trade it for anything in the world."