Learn how these four members of the bleeding disorders community have faced mental health challenges and found ways to thrive.
1. Dexter Grooms Jr.
For years, Dexter Grooms Jr. dealt with feelings of self-doubt and negativity—and assumed he was the only one. "I was thinking that's just me, just the way I am," he says. "I didn't attribute it to hemophilia."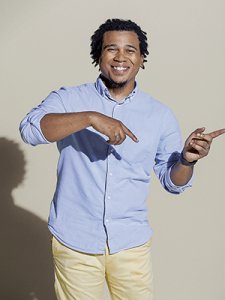 Dexter, 30, has hemophilia A and an inhibitor. He works as a graphic designer and lives in Miami. He shared his thoughts and feelings with his wife but few others.
Then, in 2015, Dexter learned about the National Hemophilia Foundation's Inhibitor Education Summits (held throughout the year in different cities) and attended his first one. He was struck by how many sessions revolved around mental wellness. "I didn't know how big of a deal mental health was with hemophilia," he says.
Nowadays, Dexter is candid with others about his struggles. He says one of his biggest challenges is with self-confidence, particularly in his work as an artist. "I've been designing for 10 years, and I do still have times when I doubt myself and how good I am," he says.
At times, he also struggles with a negative mindset. "Before, I was a big believer in bad things happening in threes, and usually the third thing is a bleed," he says.
Fortunately, Dexter says his wife has helped him identify those negative thought patterns so he can replace them with more positive ones.
For example, Dexter credits his bleeding disorder with helping him develop his artistic abilities. "I attribute me being creative all the way to hemophilia," he says, explaining that growing up, he would often create art to get his mind off hemophilia worries. "When I was out of commission on bed rest, I would jot down notes for what I wanted to create once I wasn't in pain."
Dexter also copes by knowing himself and his needs. Though his career at a university demands constant interaction with others, he is an introvert by nature. "I keep to myself a lot," he says. "Especially if I'm in pain, I try not to talk to anyone." So he seeks time to himself, whether it's taking a walk, listening to music with headphones or having lunch by himself. "I have to have some kind of alone time every day in order to keep functioning well," he says.
That's not to say he doesn't get satisfaction from connecting with others. Recently, Dexter became a member of the Inhibitor Summit National Steering Committee and has thrown himself into the role. The steering committee shapes the offerings of future summits and relies on community members like Grooms to share their input.
For Dexter, it was a revelation. "As a kid with hemophilia you don't really get asked what you want, because what you wanted was unattainable. Now people are asking me what I want. This voice that I didn't know I had, I have now."
– Kathryn Anne Stewart
---
2. Cody Kester
Isolated when he was young because of his bleeding disorder, Cody Kester later found a strong support network to help him through rough times.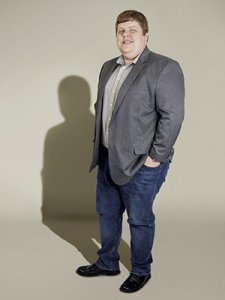 Cody Kester, 26, lives in Alma, Arkansas. His family has no history of bleeding disorders, so it was a shock when he was diagnosed with von Willebrand disease type 3 as a toddler. Today, he is president of the Hemophilia Foundation of Arkansas and plans to attend law school in the fall of 2019. He's also been dogged by depression since childhood. Here, he provides some insight into how he has managed to, as he puts it, "keep on chugging."
What was your experience like as a kid?
When I was in elementary school, I was bullied a lot for not being "normal." In junior high, I had several surgeries and infections and ended up missing so much school that I failed the seventh grade. But high school is where the bleeding disorder affected me the most. The school considered my bleeding disorder to be a liability, so I was put in a special program called Homebound where I went to school just four hours a week—two hours each on Tuesday and Thursday nights.
What was your mental state like during that time?
I was very angry. Depression was a big factor in my life because I felt like I was alone. The way the school treated me I thought, "Oh, I guess I don't need an education, so I might as well not even worry about it." I had friends, but not close ones. I missed out on a social life. To be honest, I took a lot of my anger out on my mom. I feel terrible for that. In my mind it was, "You gave birth to me and I'm not normal, so all these things are happening." I regret acting the way I did. Ignorance is not always bliss.
Did you have counseling?
When I was younger, I did have some counseling. My hemophilia treatment center gave me information to go to someone in my area. I also had the Arkansas chapter and their events. Honestly, camp was where my social life was. It was one week out of the year that changed my life. I started going at 6 or 7. And then I ended up going all the way to graduating at 18. I met my best friend, Austin, at camp, and we ended up becoming counselors together. Now we're co-directors of the camp.
What did camp do for you psychologically?
Camp was everything to me as a kid. It was 100% the most important thing. And as a matter of fact, kind of still is. It has followed me throughout the years, that feeling of camaraderie, that I'm not by myself, that I have friends here. Here's a perfect example of why camp is so important: I hadn't talked to one of my buddies from camp in about nine years. He texted me out of the blue and said, "Cody, I'm getting married, and I want you to be a groomsman." So that just shows the impact of what camp can do for someone and what those relationships mean. Camp is an amazing thing, and I hope it never goes away.
How are you doing today?
Depression can come creeping back. For me, usually it has some correlation of whenever I'll have several bleeds. There are days where I can't get out of bed. I don't want to get out of bed. I don't want to get anything done. There's no point. Because why try and be happy when you know you're going to just get kicked back down because you have another bleed? It just wears you down. That's not my mindset all the time. I have my good and my bad days like everyone else. It's hard to talk about mental wellness. It really is. But the key for me has been to try and not rely on myself as much. I have to be able to reach out and rely on other people. And it's weird to say that, because I didn't grow up with a social life. Having a social circle is the best way to keep it in check.
– Ian Landau
---
3. Cazandra Campos-MacDonald
Until recently, Cazandra Campos-MacDonald was one of the hidden faces of mental illness.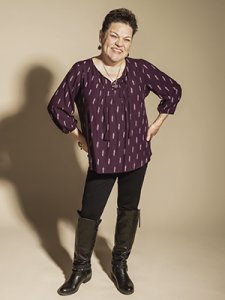 In her 20s through early 40s, she struggled in private with depression, anxiety and an addiction to pills, in addition to managing the care of her two sons with severe hemophilia and inhibitors. "I was a functioning person with depression," she says. "Nobody would have ever known I had that problem."
Now 50, Cazandra is in a better place mentally. A self-employed speaker and writer, she and her husband, Joe, a United Methodist pastor, live in Farwell, Texas, with their sons Julian, 22, and Caeleb, 13. She is candid about her past challenges and how she copes day to day.
A bleeding disorder can be tough emotionally for caregivers. What are some of the emotions and challenges you have experienced?
When a diagnosis comes—if we expect it or not, if we have a history or not—we experience grief and shame and fear and guilt. Working through those emotions is rough and takes a long time. My clinical depression went out of control after my first son was diagnosed and my mother died five weeks later.
Then when my younger son was in second grade, we had a terrible, awful, no-good year. For every complication that an inhibitor can bring, he had it and more. He lost mobility and was in a wheelchair. We were in the hospital more than we were at home. The anxiety that took over my life was almost debilitating.
What is your attitude toward your mental health now?
I finally gave myself permission to put myself first. For so many years, I was at the bottom of the list. But mental health issues always have to be top priority, or else I can get into places where the darkness can take over.
What does depression feel like for you?
I fall into this pit that I can't get out of. It's like a heavy quilt that goes over you and you can't push it up over your head. It just stifles you, and you want to stay there. Even when things are going well, I still struggle with this heaviness. That is just part of the disease.
Is it difficult for caregivers to prioritize their mental health?
Absolutely. Especially when you're in crisis mode, all you're worried about is your child. And crisis mode can last for years when you have a chronic condition. Sometimes it takes getting back home from the hospital, things calming down and then all of a sudden you have this wave of depression that just takes over.
What should caregivers do if they feel these emotions?
The first step is to talk to someone you trust and tell them what you're feeling. Talk to the social worker at the hemophilia treatment center, or see a therapist or counselor. You're not alone. There are millions of people that struggle with this stuff.
– Kathryn Anne Stewart
---
4. Joe Markowitz
Imagine being 68 years old, on Social Security and Medicare, and still feeling like you're going to die young.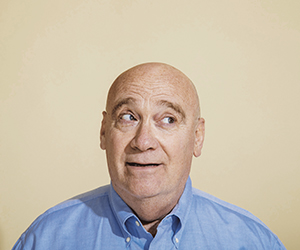 That's how Joe Markowitz, of Robbinsville, New Jersey, felt after retiring from a successful 45-year corporate career. Despite having a 48-year marriage, two wonderful kids and five grandkids, the words from his childhood hematologist still played in his head: You're going to die young of a bleed.
Back then, treatments were limited. "If you hurt yourself, you watched cartoons from the couch and cried and eventually the bleeding would stop," he says. "At a certain stage, you realize that things like riding a bike would result in more pain than pleasure, so you stopped taking risks altogether."
It is no longer necessarily the fear of bleeding. "Our HTCs and surgeons have made the actual bleeding events less likely, less stressful and less life-threatening," he says.
But the anxiety around his quality of life remained. He began questioning his decision to go on a cruise last summer with his wife (Will I be able to walk around the boat and go sightseeing and take advantage of everything it has to offer, or will I be stuck inside sitting on a chair the entire time?), and he realized the remnants of hemophilia might just ruin his retirement. So he decided to take action. "I was not going to view life as a series of future medical issues, but as a future with a real future, one that I wanted to be happy enough to enjoy my life."
Around that time, Joe met a psychologist at a Hemophilia Association of New Jersey chapter meeting. While the conversation was supposed to be about the older community in general, Joe recognized how valuable discussing his feelings could be. "I realized for the first time that with the proper tools, I can get out of my funk and start enjoying life."
He was referred to a psychologist and began to take a low dose of Wellbutrin. And quite quickly, his outlook shifted. "I used to think I was always going to die tomorrow," he chuckles. "Intellectually, I knew that wasn't going to happen. But it's how I always thought—no point in losing weight, no point in exercising, no point in investing in myself, because I'm going to die tomorrow anyway. But between the drug and seeing the therapist, I know I'll at least make it to the weekend…and maybe even a few years more."
Joe wants people to know that living with depression or anxiety can easily overwhelm you. "Don't let it," he urges. "Seek help, enjoy today and look forward to tomorrow."
– Leslie Pepper
---
Read more
• Putting the Spotlight on Mental Health and Bleeding Disorders
• Know the Signs of Anxiety and Depression