Hiking offers people with hemophilia exercise, fun and exhiliration
Author: Lisette Hilton
Moderate hemophilia A hasn't stopped Mitchell Renville from hiking the 2,165-mile Appalachian Trail. The trek took him from Georgia to Maine over the course of a year.
Renville, 43, of Portland, Oregon, has been an avid hiker for about a decade. The sport changed the focus of his corporate-centered life to one more focused on nature. "My transformation started with hiking and getting out of the city and breathing fresh air," Renville says.
Hiking Basics
Hiking is different than taking a stroll, power walk or run. Its nuance is that it is done on a natural ­surface in a natural setting, according to Andrea Ketchmark, volunteer ­programs manager at the American Hiking Society in Silver Spring, Maryland.
There are two basic groups of hikers: day hikers and backpackers. A day hike can be any length or cover any type of natural terrain, but the hiker does not stay overnight or camp on the trail. In contrast, a backpacker stays along the trail for at least one night—sometimes months, as was the case with Renville.
"Hiking is basically putting one foot in front of the other," Ketchmark says. "You can choose different types of trails and elevation to fit your fitness level. You can go at your own pace."
Among outdoor recreational activities in the US, hiking is the most popular, according to the Outdoor Industry Association. And you don't have to spend heaps of money to do it.
Safety First
General safety precautions for hikers, according to Ketchmark, are: know where you're going, tell somebody where you're going and never go alone.
While everyone should prepare physically for the sport to some degree, it is especially important that people with hemophilia start slowly and prepare their bodies for hiking, says Gregory Thomas, MD, director of the Oregon Hemophilia Treatment Center, Portland, and region 10 director of the Agency for Toxic Substances & Disease Registry.
"Conditioning … is a combination of having muscle strength, aerobic endurance and flexibility in your muscles and joints so, if you take a misstep or twist, you're not so tight that you're going to injure yourself," Thomas says.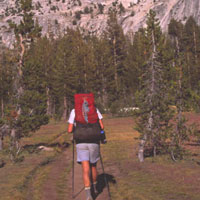 People with hemophilia who plan a more ambitious hike—such as overnight or for a couple of days or more—should contact their hemophilia treatment center (HTC) staff to find out what they can do to prepare, Thomas says.
Thomas suggests that people with bleeding disorders start with walking on flat, smooth surfaces, such as pavement, and work their way toward hiking on smooth, natural surfaces and, finally, on rougher terrain.
"I think it's important to work up to that and try to make sure that you have the endurance and muscle strength to support your joints, so that you have a decreased risk of having a bleed," he says.
Renville's journey might be too ambitious for many with hemophilia, Thomas says. But day hikes and even overnight hiking for a few days at a time are within the reach of many with the bleeding disorder.
John Salmiery, 30, of San Jose, California, has severe hemophilia A and says that because of his joint damage, he usually limits his hikes to those he can do in a day. He started hiking as a child at the Hemophilia Foundation of Northern California's summer camp. Now he hikes occasionally with friends and family.
For any hike longer than three miles, Salmiery says he packs a bleeding disorder first-aid kit.
"You have to bring a tourniquet, butterfly needle, some alcohol, gauze pad, a syringe and a couple of boxes of factor," Salmiery says. "The whole kit for the treatment is about a pound or two. Always err on the side of caution because, having severe hemophilia, anything can happen."
Hiking Essentials
Advances in gear and technology have made hiking safer and more enjoyable. People with hemophilia benefit from equipment that can lessen the risk of bleeding and subsequent joint damage.
Shoes. Shoes are one of the essential pieces of hiking gear. Rather than purchasing shoes online or through a catalog, go to a reputable store to get good advice on hiking shoes. Designed to give support on uneven terrain and a variety of hiking surfaces, hiking shoes or boots need to fit well and be comfortable with or without the weight of a full knapsack, according to Ketchmark.
However, some of today's lightweight hiking shoes might not be optimal for hikers who have hemophilia, Thomas says. "Wear good, sturdy boots—not necessarily big, high, clunky hiking boots, but something with good ankle support."
Clothing. Avoid wearing cotton clothing when you hike; cotton absorbs sweat and dries slowly. Instead, buy shorts, pants, shirts and jackets that are made of a wicking material that pulls moisture away from the skin and helps it evaporate. Wear layers so that you can easily adjust to heat and cold.
Hiking poles. Consider buying hiking poles, also called trekking poles. Similar to ski poles, hiking poles are held in each hand, helping hikers gain stability, reduce their risk for falls and better distribute the force of hiking beyond the feet, ankles and knees to the upper body.
Renville says the poles were invaluable on his trips. He swears by the trekking poles that have built-in shock absorbers. Ketchmark says it's important that the poles are the right size for the person. To get the best fit, drop your arm straight down by your side, and bend the elbow up to a right angle. Your forearm should be parallel to the ground. At that angle, the pole grip should fit comfortably in your hand.
Pack factor and plan for prophylaxis.Thomas says that people with hemophilia should infuse before most hikes to minimize the chance of a bleed. For one- or two-day hikes, people should bring insulated containers with ice and a few vials of factor.
Invest in a quality inflatable mattress. If you're camping overnight, consider an inflatable mattress that cushions your body from the ground. "I carried a super-thick air mattress. I had to get the luxury, extra heavy, thick one because when I sleep on the rough ground my hips bleed," Renville says.
Backpack for comfort. Renville says that the lightest backpacks are not always the best for people with hemophilia. After trying several types, he chose a backpack that weighs about five pounds and has a solid hip belt and wide shoulder straps to avoid irritation at those points.
Exit Strategy
All hikers, and especially those with bleeding disorders, need to plan ahead. Part of that plan should be an escape route—a way to get to medical help in a reasonable amount of time, says Renville.
With good preparation and planning, hiking is a good sport for people with hemophilia. "Strong muscles and strong ligaments provide greater support for your joints and you have fewer bleeds. I think walking and hiking build muscle strength that will support the joints," Thomas says. "Hiking is something that you can do no matter where you live. It builds up your aerobic fitness and strength. It's fun to do with other people, and if you start when you're young, you can continue throughout your life."
Thinking about trying a hike this summer? Prior to starting any stretching or exercise program, contact your HTC to review your bleeding history and the current status of your joints. To find an HTC in your area, visit the Centers for Disease Control and Prevention Web site.
The true exhilaration, Renville says, comes when the hiker overcomes a challenge, such as a hill. "For me, getting to the top of the first hill was so exhilarating that what I saw over the next hill was just a bonus."