Nordic walking reduces stress on joints and build muscles
Author: Martha J. Frase
Douglas Smith Jr., 43, was surprised when, last May, the fitness and nutrition counselor at his hemophilia center in Rochester, New York, showed the group a pair of ski poles and began talking about a new kind of workout. "It looked kind of strange, at first," he says. "I was thinking, 'But there's no snow out there.'"
Nordic walking is a form of ­outdoor fitness using specially designed, waist-high poles in a full-body, aerobic workout. It began as a way for cross-country skiers to train in the off-season, keeping their muscles toned when there was no snow on the ground. Over the past decade, it has evolved into a year-round fitness activity potentially suitable for all ages and abilities. According to a study of Nordic walking conducted by the Cooper Institute, the Dallas-based health and fitness research institution, the upper-body muscle work of walking with poles creates about a 20% increase in oxygen consumption and energy expenditure compared with regular walking at the same speed. The activity has the potential to burn up to 400 calories an hour.
Carol Plotkin is the nutritionist and fitness instructor who works with patients at the Mary M. Gooley Hemophilia Center in Rochester, conducting lunchtime Nordic walking training sessions outdoors, followed by 30- to 45-minute training walks. "It's an especially good activity for people with hemophilia. It reduces stress on the joints and builds muscle without straining," she says.
People with bleeding disorders need to exercise with caution to avoid bleeds in muscles and joints. Yet they still need to keep in shape to retain stamina, muscle tone and flexibility. Nordic walking offers the benefits with less risk.
"Patients are always surprised at how walking at their own pace using the poles can get their heart rate up almost to the level of jogging—using their arms, legs and core muscles without really being aware of it," says Plotkin. And afterward, they are less likely to experience painful muscle soreness that can follow a new exercise routine.
With severe hemophilia A, and serious joint bleeds over the years that have caused permanent joint damage and a limp, Smith says exercise does not play a big role in his life. The former machinist and truck driver has been on disability for much of the past eight years. "I don't have a body you can press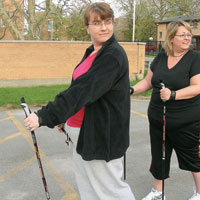 too hard," Smith says. But after 30 minutes with the poles, Smith felt a difference. "I felt stable using the poles, and I felt my heart rate go up. Later I felt that looseness all over, like my muscles had really been working." 
In Nordic walking, you use your natural gait and rhythm while holding a pole in each hand, striking the ground and pushing off slightly with each step. "It's not the same technique that hikers use when walking with sticks and poles on rough terrain," says Plotkin. You never bring the poles in front of the feet—they are more like extensions of the hands, following the natural arm swing. Pushing off from the ground with the poles creates resistance while also taking pressure off leg joints.
"With each step, holding the pole with a relaxed, open hand, you push down into the wrist strap, like a tricep extension," Plotkin explains. The movement is so effortless that it's possible to walk for up to 90 minutes without overdoing it, she adds.
All you need are running or aerobic shoes for flat surfaces and hiking shoes for rougher terrain. Nordic walking poles have either solid or collapsible shafts and are designed to be slightly flexible. A basic, long-lasting graphite pole set from a sporting goods store or ski shop costs about $80 to $100.
The adjustable wrist straps, which can be purchased separately from the poles, should fit loosely and comfortably. When used properly, they will not cause bruising or target joint bleeding in people with bleeding disorders, Plotkin assures. "Try different types that feel most comfortable in your hands," she suggests. Plotkin prefers those that separate the thumb and fingers.
The sharp tips of the poles allow walkers to "skewer" the earth when walking on unpaved surfaces. For hard surfaces, poles also come with rubber "paws" to cover the tips and prevent slipping. "If you do a lot of pavement walking, you'll need to replace the paws about every three to six months as they wear out," says Plotkin.
To get the most out of Nordic walking, Plotkin recommends getting some instruction. If there are no classes in your community, she recommends checking out a Nordic walking Web site for videos, lessons and equipment. You can also suggest that your hemophilia treatment center (HTC) start a similar program.
The risk of injury with Nordic walking is low, asserts Plotkin, in part because the poles provide so much stability. "The only hazard is that you have to dodge the hecklers who want to know, 'Where's the snow?' I just tell them to come join us!"