Get outdoors with kayaking and canoeing
Author: Matt McMillen
"When you are out on the water, it is simply one of the most beautiful views of the world."
That's how college student Renee Embry describes paddling in her kayak. Embry, 21, has a platelet dysfunction and Ehlers-Danlos syndrome, but that doesn't stop her from getting out on the water. Nor should your bleeding disorder stop you. Kayaking and canoeing are both good ways to spend time outdoors. They keep you active and in shape. They are not without risk, but with the proper precautions and care, you can take to the water with a minimum of worry.
According to "Playing It Safe: Bleeding Disorders, Sports, & Exercise," the National Hemophilia Foundation's (NHF's) guide to sports and exercise safety, kayaking and canoeing are considered moderately to dangerously risky. NHF recommends kayaking or canoeing on lakes and other calm surfaces. Rivers with rocky rapids are to be avoided. They greatly increase the danger of capsizing, which can lead to head traumas and other serious injuries.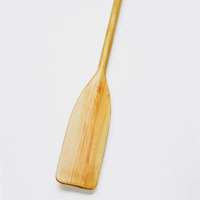 "Many sports around water are at least moderately risky, simply because of the inherent danger of drowning," explains physical therapist Heidi Lane, PT, of the Mountain States Regional Hemophilia Treatment Center in Salt Lake City. "But in sports rated moderate, the benefits definitely outweigh the risks. Just be sure you know how to swim!"
Paddling helps build upper body strength while also toning your abs and delivering an excellent cardio workout, says Lane, who has been an avid kayaker for 10 years.
"It's good, low-impact exercise."
But exercise is only one benefit. For Ian Wagner, 20, of Glendale, Arizona, the best part of kayaking and canoeing is that it takes him away from his everyday surroundings. "It's a break from civilization," he says. "There are no buildings for miles." His favorite place to kayak is Utah's San Juan River, which runs between sheer cliff faces. Wagner, who has severe hemophilia A, started canoeing and kayaking several years ago, when he joined a camp counselor-in-training program run by the Arizona Hemophilia Association. He spent five days in a kayak. After the first two days, his body adapted to the seven to eight hours his group spent on the water each day. He fell in love with the sport.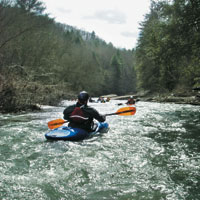 Wagner also likes canoeing, which he finds much more relaxing than kayaking. "At camp, we go on canoeing trips, taking the kids out on different lakes," says Wagner. "It's a lot less work than kayaking. We spend a lot of time splashing each other with water."
Embry started kayaking in the summer of 2007, after being invited on a trip by friends at the University of Memphis, where she has just finished her sophomore year. After that first trip, in western North Carolina, she was hooked. But, like Wagner, she doesn't let her enthusiasm for the sport cloud her judgment, especially when it comes to safety. Before she took her first trip, Embry enrolled in a kayaking course at school so she could learn the basics and be prepared.
Having a bleeding disorder means Embry has a special set of safety concerns. She's on top of that, as well. "There's a lot I have to deal with," she says. "The first thing I do is tell the people I'm with about my bleeding disorder and what needs to be done if I have a bleed. And if we can't stop the bleed, we hike out and find a hospital."
Ironically, many kayaking and canoeing-related injuries take place on land, as Embry found out on a trip this past spring. While pulling her kayak from the water, she cut her thumb. It bled for two hours and didn't stop until after she'd reached the nearest emergency room.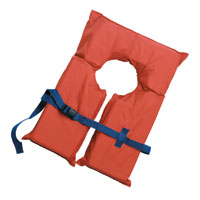 Lane says the biggest risk in canoeing is getting in and out of the boat. "You need sure footing so that you don't slip and fall." She recommends wearing a snug pair of water shoes made with quick-drying mesh uppers and slip-resistant soles.
Lane also recommends that you talk to the staff at your local hemophilia treatment center before you go kayaking or canoeing. They can advise you about the need to pre-treat. Wagner infuses three times a week, and he always takes extra factor with him when he goes out on the water. And, like Embry, he never goes out alone.
"I like to have someone with me for safety and because it's a lot more fun that way," he says.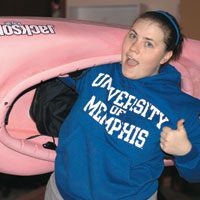 Both canoeing and kayaking put a lot of stress on your shoulder joints, says Lane, so if your shoulders are a trouble spot, you must be extra cautious. Learning proper paddling techniques is essential.
"Improper techniques can cause shoulder dislocations," Lane says.
Both Wagner and Embry put safety at the top of their list, right up there with fun. By recognizing the risks and taking the proper precautions, they've been able to make kayaking and canoeing a big part of their lives. They each expect to be paddling for years to come.