2012 is fifth year of NHF's Walk program
Author: Beth Marshall
With exotic bird cries filling the air, more than 600 participants in the Florida Hemophilia Association (FHA) Walk meandered down the paths of Jungle Island, an animal theme park in Miami. They were there to show their support for people with bleeding disorders, enjoy the April Florida sunshine and bring awareness to their cause.
This was the first Hemophilia Walk for the Florida Hemophilia Association. Debbi Adamkin, executive director of the chapter, wanted to raise awareness of bleeding disorders among a larger audience, and the Walk was a perfect fit. "There are still a lot of people who don't know anything about hemophilia, von Willebrand disease (VWD) or other rare bleeding disorders," she explains. "A Walk is something everyone can participate in: adults, children, people with mobility issues."
The Walks are also a way for chapters to raise local revenue. FHA raised approximately $75,000 in local revenue, considerably more than its projected goal of $50,000. 
2012 marks the fifth year of the National Hemophilia Foundation's Walk program. Beginning in 2008 with five Walk chapters, it has grown to a coast-to-coast affair, with 18 chapters marshaling approximately 12,000 walkers and 900 teams, and raising $1.3 million in local revenue. The program is supported by national sponsors: Presenting Sponsor Baxter, Pacesetter Sponsor Bayer HealthCare, Milestone Sponsor Grifols, Official Sponsor Pfizer and Supporting Sponsor Biogen Idec Hemophilia.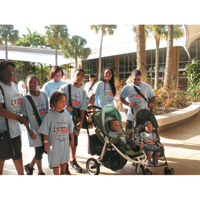 The newly added chapters are only part of the reason for the Walk's growth. The New York City Hemophilia Chapter, which has participated in the program since its inception, has seen an increase in walkers, revenue and local sponsor support over the years. Glenn Mones, executive director of the chapter, attributes the growth largely to the enthusiasm of his volunteers, as well as the increasing involvement of past participants. "You need to encourage people to go a little farther," he says. "If a person was on a team last year, you ask this year if they'd like to captain their own team. If they were a captain of a team last year, you ask them if they'd consider holding team fundraising events."
But the success of the walk isn't measured only in dollars, Adamkin points out. "We had families come in who had children with bleeding disorders who had never heard of our organization. The day of the Walk, we had a family with VWD who just happened to be at Jungle Island that day see the sign for our walk and come over. If you can reach those families who didn't know about our bleeding disorders community, then you can call it a success."
In 2012, 23 chapters will host Hemophilia Walks, with five new sites: Montgomery, Alabama (Hemophilia & Bleeding Disorders of Alabama); Denver (Colorado Chapter, National Hemophilia Foundation); Boise, Idaho (Idaho Chapter, National Hemophilia Foundation); Las Vegas (Nevada Chapter, National Hemophilia Foundation) and Bozeman, Montana (Rocky Mountain Hemophilia & Bleeding Disorders Association). Check out the full list of Walk sites and find out how to get involved.