Researcher's exposure to medicine started through her physician father
Author: Sarah Aldridge
HemAware is conducting a series of interviews with recipients of the NHF-Shire Clinical Fellowship. It is funded through the generous support of Shire. The objective of this grant is to increase the number of skilled clinicians committed to providing comprehensive care for individuals with bleeding and clotting disorders and to prepare candidates for academic careers.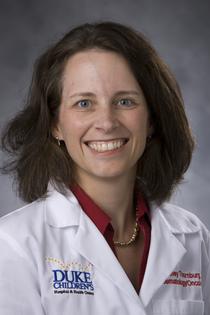 This interview was conducted with Courtney Thornburg, MD, MS, co-director of the Duke University Medical Center Hemostasis & Thrombosis Center in Durham, North Carolina. Her mentor was Steven Pipe, MD, pediatric medical director, Hemophilia and Coagulation Disorders Program at the University of Michigan in Ann Arbor. The fellowship was funded from 2003–2005.
Why did you decide to study medicine?
Thornburg was attracted to the medical field partially because her father was a physician trained in pharmacology and family medicine. As a result, she had an early exposure to medicine and to laboratory work. "I worked in a coagulation lab when I was in high school," Thornburg says. "I had a very good mentor there who encouraged me to pursue a career in medicine."
What initially attracted you to hematology?
"I was really intrigued both about the clinical aspects initially of bleeding disorders, and then later of other types of blood conditions," says Thornburg. She was also interested in the physiology of bleeding and clotting disorders, and how to apply treatment to remedy them.
How did the training and mentorship you received as an NHF-Shire Clinical Fellow affect your decision to pursue clinical care and/or research in bleeding disorders?
When Thornburg received the fellowship, she was working in Pipe's lab, studying bioengineered factor VIII to treat hemophilia A. But in her heart, she really wanted to work with patients. "The fellowship allowed me to pursue the training in clinical research, focusing on bleeding and clotting disorders," she says. "Had I not had the funding then, I wouldn't have had the opportunity to get the training and refocus my career."
Are you still engaged in the clinical aspects of patient care or bleeding disorders research? What aspect of care are you most interested in?
Thornburg juggles both treating patients and performing research at Duke. "I really like the fact that oftentimes we get to meet the children at the time they're born or shortly thereafter and establish a long-lasting relationship with the family." She finds fulfillment in watching the kids grow up and in making sure they lead active, healthy, happy lives.
Thornburg is working with an adult hematologist at Duke on a surveillance study of people with bleeding disorders. The project is funded through the Centers for Disease Control and Prevention.
Did your NHF-Shire Clinical Fellowship assist in advancing your own position at your institution? Or did it serve as a building block to further your career in coagulation?
The fellowship gave Thornburg additional experience in hemophilia and clinical research. It also helped her transition from the position of a fellow to an instructor. "Then it helped me in terms of obtaining my first assistant professor position at Duke University because I was coming with some unique expertise."
Where do you think bleeding disorders research and clinical care may be headed in the future? Within the next decade?
In the immediate future, Thornburg anticipates a concerted focus on new products with longer half-lives and easier administration. "That aspect of it will improve quality of life for individuals with hemophilia." She's also encouraged by the recent advancements in gene therapy for people with hemophilia B. Lastly, she predicts that more focus will need to be placed on patients undergoing transitions. "We're going to need successful strategies to transition kids to adult care and to know how to take care of adults as they get older."
What profession would you be in if you weren't in medicine?
If it weren't for medicine, Thornburg's career might have taken one of two divergent directions—culinary arts or professional sports. She picked up tennis two years ago and says she's "obsessed," playing both singles and doubles matches. But making a living from it is another matter. "I don't know if I'd make it as a professional tennis player," she says, laughing.
Although she has little time for it now, Thornburg has always enjoyed cooking. "Maybe it's my background in chemistry that I like to see how things get put together." She enjoys experimenting with foods from a variety of cultures. But her true specialty is desserts— specifically, cheesecake.
Learn More:
How to apply for the NHF-Shire Clinical Fellowship.