Researcher studies the structure and function of the factor VIII protein
Author: Sarah Aldridge
HemAware is conducting a series of interviews with researchers who have received awards to pursue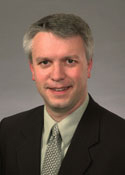 their research interests. This interview was conducted with Steven W. Pipe, MD, medical director, Pediatric Hemophilia and Coagulation Disorders Program at the University of Michigan, Ann Arbor. Pipe has been researching the structure and function of the factor VIII (FVIII) protein and its secretion pathway to improve the manufacture of its recombinant form. He is a member of the National Hemophilia Foundation's Medical and Scientific Advisory Council (MASAC).
What drew you to this field? What was your initial interest in this field of research?
Pipe's move to Michigan was fortuitously timed. He was beginning his laboratory training as a fellow in pediatric hematology and oncology just as Randal J. Kaufman, PhD, was establishing his laboratory. "I saw this as a wonderful opportunity to work with somebody who had been part of the team that originally cloned FVIII and did the original expressions of recombinant FVIII," Pipe says. "That's where my interest in hemophilia research started, at a very foundational level on FVIII biology."
Where were you in your career when you were awarded the Career Development Award?
When Pipe received the Career Development Award in 2000 for his project, "Development and Characterization of Novel Genetically Engineered Factor VIII Molecules with Increased Activity and Stability," he was transitioning from fellowship training to a junior faculty position. He says the award helped him kick-start the necessary funding for his lab, expanding what he had begun as a fellow. "That funding came at a critical time to keep the research portfolio going. Many of my important projects that we've continued since that time were initiated at the time of that award."
What did you use the grant for?
The grant was used, in part, to hire a full-time technician. "The most significant part of the funding was to add the hands on deck to do the work that was needed," says Pipe.
Did the research NHF funded through the Career Development Award assist in advancing your own position at your research institution/hospital? Or did it serve as a building block to further your career or research in hemophilia?
For Pipe, the award was both a building block and a springboard for independent funding. "The work that we accomplished under the CDA was the preliminary data that we put into our first RO1 application funded by the National Institutes of Health."
Are you still engaged in coagulation or bleeding disorders research specifically?
"Yes, we've been pursuing a number of strategies to increase the potency of FVIII, improving the secretion efficiency, looking at alternative expression systems—all hopefully to produce novel forms of FVIII that might bring improved benefit to the patients." The two benefits Pipe cites are improved products and reduced costs.
How does/will your research have an impact on the clinical aspects of patient care?
With the average annual cost of factor product estimated at $150,000 per patient, and much higher for those with inhibitors, Pipe's lab is concerned about making factor affordable. "If we can produce enhancements in recombinant FVIII production that would lead to either much less frequent infusions or a much lower cost of therapy, this would have a major impact on the burden for families and insurers."
What career goals do you have for the future?
Pipe is content to stay where he is, finding connections between his research and the care of patients in the pediatric hemophilia treatment center he directs. "My interests in the laboratory have spilled over to give me unique insights in the clinical realm. I continue to remain firmly focused in this area of research for years to come."
Where do you see bleeding disorders research going?
Pipe believes bleeding disorders research is on the brink of what he calls a transformative era. "I really think we are on the cusp of seeing true bioengineered variants of not just FVIII, but all treatment products for various bleeding disorders with all kinds of bioengineered modifications that will substantially transform how we treat these patients."
When you're not working, how do you "escape" from your work?
Music provides an outlet for creativity. "I am fairly musically engaged," Pipe says. He's played the piano since he was a youth. "I lead a worship team at our church, Living Water Community Church. It's contemporary music."
Soccer is center stage for two of Pipe's three teenage sons, who play competitively. "We spend a considerable amount of time enjoying their efforts on the playing field. That's been a lot of fun for our family." He adds, "My tech-savvy oldest son keeps me up to date on what's cool in the computing realm."