Telemedicine enhances patient care at some HTCs
Author: Kathryn Anne Stewart
Sabrina Burgess has von Willebrand disease (VWD). She takes several medications, follows a treatment care plan and sees her physicians every three to six months. So far, the 16-year-old high school student has never set foot in a hematologist's office.
That's because her pediatrician, Colleen Vallad-Hix, DO, participates in a unique telemedicine partnership with Michigan State University's (MSU's) Center for Bleeding and Clotting Disorders in East Lansing, a hemophilia treatment center (HTC).
Sabrina lives in Dollar Bay, Michigan, in the Upper Peninsula, more than 500 miles from the MSU center but just 6 miles from Vallad-Hix's office in Hancock. The partnership means Sabrina and her mom, Machel, don't have to travel long distances for care. They don't have to book flights or hotel rooms, or pay at the pump and endure a long car ride. They don't need as much time off school and work, and they don't need a baby sitter for Sabrina's younger brother. 
Best of all, Sabrina, Machel and others can access specialists like Roshni Kulkarni, MD, director of the MSU center, as well as her team of hematologists, nurses, social workers and more.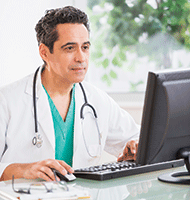 Tetra/Glow Images
How It Works
A telemedicine session is similar to a traditional office visit. The patient is seen one-on-one, not with other patients. First, the patient is given a standard physical exam (i.e., height, weight and blood pressure) by an in-person nurse. Then, the in-person primary care provider comes into the room, and they all connect to the remote specialist, such as a hematologist, virtually. The patients and providers at their separate locations begin a two-way, real-time video conference. It's similar to using Skype or FaceTime on an iPhone, with one key difference: The communication complies with the Health Insurance Portability and Accountability Act (HIPAA), a federal law that sets rules supporting patient confidentiality, including who can transmit health information and how it must be secured.
"I go over the patient's history and physical," Kulkarni says. Together, the group (the in-person primary care provider, the remote specialist and the patient) discusses the patient's diagnosis, treatment plan, any issues that come up and the results of lab work. The telemedicine session can also include consultations with a social worker and other specialists at the HTC. The group then confers, making any required decisions as though they were in the same room.
When Machel was first facing the prospect of Sabrina having a bleeding disorder, she was nervous. "Your mind goes to the worst possible scenario. That's what you do when you're a mom," she says. But the team involved in the telemedicine sessions with MSU allayed her fears. "They prepare you so that when you go in, it's comfortable. You get the same attention that you would get if they were in the room with you," says Machel. Sabrina and Machel have had four appointments via telemedicine. 
Kulkarni uses telemedicine at three other sites in Michigan. One of them is the Northern Regional Bleeding Disorders Center at Munson Medical Center in Traverse City, where Michelle L. Witkop, DNP, FNP-BC, is a bleeding disorders nurse practitioner. Witkop uses telemedicine conferencing with MSU once a week. 
As good as telemedicine can be, there's no substitute for hands-on medical care. That's why Kulkarni  makes regular, in-person visits to the local facilities several times a year. "The best scenario would be to have some kind of a physical meeting with the patient, so you're not always a virtual doctor," she says.

 Robert Hyrons/Thinkstock
The Advantages
Improved access to care, especially in rural areas where there is a shortage of specialists. "We are far away from huge hospitals—hours from amazing medical staff like MSU," Machel says. "It's amazing what this can do for people."
Decreased travel for patients. Patients travel about one-tenth as much, says Witkop. Shorter distances mean savings of both time and money. "I'm only 10 minutes from the hospital," Machel says. "That's saving me from missing three or four days of work."  
Local access to DDAVP trials. DDAVP (desmopressin acetate) increases the level of von Willebrand factor in a person's bloodstream. For patients with mild or moderate hemophilia or VWD, DDAVP can be used in lieu of factor concentrate, Kulkarni says. But that's only after an evaluation to see if the medication is effective for them. "The test has to start at 8 in the morning and lasts for half a day," Vallad-Hix says. Now, instead of patients going all the way down to East Lansing, her office coordinates the testing locally.
Care delivered within a patient's "medical home." A medical home is essentially the physician's office that is at the center of a patient's care. Delivering specialty care to patients in their medical home is good for several reasons. "It definitely integrates the primary care physician in the process," says Vallad-Hix. "They see me as part of the team." And there are nonmedical benefits. "When patients get care at local facilities, their support systems are better," Witkop says. "It's just better for them all the way around."
Education for the local provider. Vallad-Hix's knowledge of bleeding disorders has improved because of the treatment consults. Now she's more familiar with the necessary tests. "When test results are abnormal, I get patients into the clinic." She also provides leadership locally during emergencies and by ensuring treatment resources are available. For example, Vallad-Hix worked with the hospital pharmacy to stock the appropriate amount of factor concentrate for the emergency room.
Ease of sharing educational materials. Kulkarni shares her screen with patients and providers, pulling up online resources such as the National Hemophilia Foundation website, www.hemophilia.org, where she frequently refers patients for quality information, resources and support.
Patient convenience. "It has saved me so much money from not having to travel, not to mention time off of work," Machel says.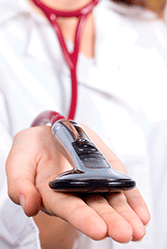 Electronic stethoscope
used in telemedicine
Fantom rd/Thinkstock
The Challenges
With an emerging technology come certain struggles, such as:
Upfront costs. Telemedicine is an expensive proposition and may be hard to implement for some facilities. Kulkarni estimates the initial investment ranges from $20,000 to $30,000. However, she adds that many HTCs are at universities, most of which already have a video-conferencing platform. "If a university already has it, you just piggyback onto it," Kulkarni says. MSU uses a platform called Zoom; other examples include Vidyo® and Polycom®. To help with costs, grants may be available from the US Department of Agriculture's rural development program, the US Department of Health and Human Services or the American Thrombosis and Hemostasis Network (ATHN). Kulkarni has obtained such grants for sites to get higher-quality cameras and speakers.
Staff time and resources for the setup. "It was a lot of work to get going on our part," Vallad-Hix admits. Nothing similar had been done in her area before. There were challenges in convincing staff of the importance of telemedicine and getting approval through administrators. It also took some effort to ensure that proper HIPAA safeguards were in place regarding the use of medical records.
Telemedicine coverage varies by state and type of insurance. Some states require a health professional be present with the patient during telemedicine sessions. Others provide Medicaid coverage of telemedicine only when a patient lives a minimum distance from his or her provider. According to the American Telemedicine Association, which advocates for advanced remote medical technologies, almost all state Medicaid plans cover some telemedicine. Further, private insurance plans are required to cover it the same as in-person services in 29 states and the District of Columbia. For your state's regulations, visit: www.atawiki.org and search "state law."
Delivering care across state lines is difficult. Unless a doctor has multiple state licenses, telemedicine can't be done between states. That's because doctors can only practice medicine (even digitally) where they are licensed. "If you're not licensed in that state, and something happens to the patient, then you're liable as a physician," Kulkarni says.
Dedicated staff time. Vallad-Hix sets aside 2.5 hours one Tuesday every month. "The pushback might be that doctors are so busy in primary care that it's hard to parcel out this block of time," she says. "But I do think it's important." 
The specialist can't feel the patient's organs. "I cannot feel the tummy or any swelling," Kulkarni says. For that, she depends on the local provider's examination. However, cutting-edge teledevices, such as teleotoscopes and telestethoscopes, allow specialists to see and hear what's going on in the patient's ears, nose, throat, heart and lungs. 
Inevitable technical difficulties. Connection problems or issues with audio or video quality occur. At Vallad-Hix's facility, an IT support person from the affiliated hospital is in the office on telemedicine days to ensure the equipment is set up successfully. 
The Quality-Of-Care Myth
One prevailing opinion is that telemedicine can't deliver the same quality of care as an in-person doctor visit. For the providers interviewed here, that hasn't been an issue. If anything, the quality offered through telemedicine is better, they say. That's because the primary care provider and specialist are in the room with the patient at the same time, planning and discussing everything as a team.
After every telemedicine visit at Witkop's facility, patients are surveyed on a scale of 1 to 5 about their satisfaction. The results indicate that patients perceive the quality as very high. Many comment that they had the provider's full attention and that they were seen faster. "Even on the days where every technical glitch imaginable happens, people will give us a 5," Witkop says. "We've never had anybody say that they felt they were getting lesser care."
Kulkarni works to foster these positive impressions. In her view, telemedicine is the future. "The days of having the patient visit the ivory tower are gone," she says. "People in the ivory tower need to get out there and care for the patient in their own environment."