New NHF initiative helps women conquer bleeding disorders
Author: Melanie Padgett Powers
The National Hemophilia Foundation (NHF) wants all women in the US to be able to raise their fingers in the "V" sign for "victory." Only when all women are aware of the symptoms of bleeding disorders can we achieve success—that's the idea behind Victory for Women, NHF's new women's health and blood disorders initiative.
The program began earlier this year but now has a name, logo and section on the NHF Web site. Victory for Women is an outgrowth of the former Project Red Flag—Real talk about women's bleeding disorders, an education and support program developed by chapter staff. The expanded program aims to:
Raise awareness outside the bleeding disorders community
Develop educational resources and programs for women with bleeding disorders
Increase advocacy efforts
Support research
Collaborate with partners
"We want to elevate our women's program to a national level," says Patrice Flax, MS, MSW, NHF education manager for Victory for Women. "We want to catch the attention of young women who don't know anything about bleeding disorders, but may be symptomatic."
Creating an Awareness Campaign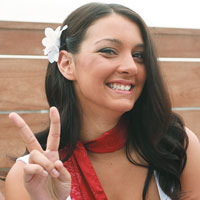 A Centers for Disease Control and Prevention (CDC) study showed that it takes approximately 16 years for a woman to be diagnosed with von Willebrand disease. "We want to find the women who aren't diagnosed who may be really struggling, but don't know why," Flax says.
In some families, what women think is normal could be a sign of a bleeding disorder. "They may say, 'The women in our families have always had very heavy periods,'" says Flax.
Earlier diagnosis helps prevent complications, such as unexpected and prolonged bleeding after surgery or childbirth, and unnecessary procedures like hysterectomies. It may also help others in the extended family get diagnosed.
One of the first items on the Victory for Women "to do" list is to create an awareness campaign, which will target three key audiences: young women ages 18 to 25, mothers of girls ages 13 to 18, and healthcare and education professionals.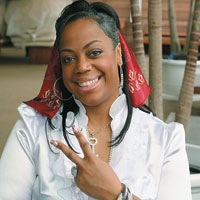 To develop an effective campaign, NHF, in collaboration with the CDC and Harris Interactive, will conduct an online survey of approximately 1,200 women about menstrual bleeding and bleeding disorder symptoms. "Our goal is to understand knowledge, attitudes, health behaviors and experiences of our intended audience, 18- to 25-year-old women," says Kathleen Roach, MPH, MBA, NHF regional director of chapter services. She is leading the Victory for Women initiative. Targeted health communications will not only raise awareness and educate young women, but also influence them to take action, if indicated, such as asking their physician about their symptoms.
NHF will develop a plan that disseminates information to women nationwide. In addition, chapters will be able to use campaign materials at their events, such as the Hemophilia Walks. "The chapters can do a lot to piggyback on the attention we hope we bring to the issue," Flax says. "They're the on-the-ground folks in the community providing services, connecting people to resources and working with the doctors." This type of outreach will help make the Victory for Women initiative successful.
[Steps for Living: Bleeding Disorders in Women]