John Indence remembered as a passionate and hard-working leader.
John Indence, NHF's vice president for Marketing and Communications, passed away suddenly on Friday, May 20, 2016. He was 52 years old.
When NHF staff, chapters and industry partners learned of the news there was a huge outpouring of sympathy and condolences across the country. "John was our friend, and his contribution to our team and his place in our staff cannot be measured in accomplishments, as he was the heart and soul of our voice to this community," said Val D. Bias, NHF CEO. 
John joined NHF in 2006. During his tenure, he spearheaded the leadership of HemAware, NHF's award-winning quarterly magazine, and expanded its capacity, including the development of Spanish-language content. "John broadened our communication abilities to include HemAware online, and extended our reach both nationally and internationally," Bias said. During John's time as executive editor of HemAware, the magazine won many awards and accolades. It remains a trusted source of relevant information for the entire bleeding disorders community. 
John was the global leader of all NHF communications both in content and delivery. "John was a valued member of our team, and the creator and architect of our communication suite," added Bias. He was cool under pressure, and handled media communications professionally and confidently. "I find it hard to put into words how much John contributed to my thinking, especially in a crisis," Bias said. "I truly valued his advice whenever we were called on to make public comment."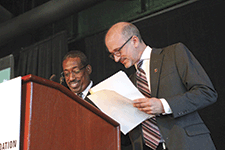 As a member of NHF's senior management team, John was hard-working, reliable and passionate about serving all those affected by bleeding disorders. Under his guidance, NHF successfully applied for March to be recognized as Bleeding Disorders Awareness Month from the US Department of Health and Human Services. As a part of this, he led the Red Tie Challenge, NHF's bleeding disorders awareness initiative. He was a key partner in building My Life, Our Future, NHF's genotyping program. Whether it was NHF's Annual Meeting, Washington Days, the Spring Soiree or interacting with chapters, John brought the same creativity and committed work ethic to each individual or group. "His contribution to the agency and the community has changed the face of the National Hemophilia Foundation and brought us to a new and more inclusive image, representing everyone living with a bleeding disorder and their families," Bias said. John's presence will be sorely missed by the entire community.