NHF's first comedy fundraiser a big success
Author: Beth Marshall
Alex Borstein is notable for a number of things—as the voice of the preternaturally patient Lois Griffin on FOX's long-running animated hit Family Guy; as the eccentric Ms. Swan from MADtv; and most recently as a co-star of HBO's new show Getting On. But in this community, Borstein is noted for bringing the power of her celebrity to a cause that is close to her heart: the challenges faced by people with bleeding disorders. That power was on full display on October 30, 2013, at the Highline Ballroom in New York City, where Borstein hosted NHF's comedy fundraiser, "What's So Bloody Funny?"
The evening of comedy had an impressive roster of talent. In addition to Borstein, there were performances by New York standup stalwart Ted Alexandro; comedian/juggler ­Marcus Monroe; actor and comedian Sarah Silverman; and comedian and musician Reggie Watts. DJ Hesta Prynne kept the party going after hours. "We're fortunate in having Borstein not only donate her time for this event, but also her connections," says Mary Ann Ludwig, NHF's vice president of development.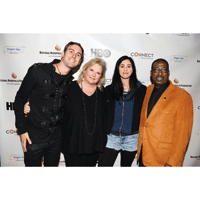 (Left to right) Marcus Monroe, Robin
Bratton-Bias, Sarah Silverman and
Val D. Bias socialized before the
comedy show began.
 The comedy event gave NHF a chance to raise its profile and the work it does to support people with bleeding disorders with both the general public and corporate sponsors. Sponsors included Biogen Idec Hemophilia, Sara Lee, HBO, Bayer HealthCare, Brother Jimmy's BBQ, SlantFin Boilers & Baseboard and Walgreens Infusion Services. Stories on the first-time fundraiser were featured in local media, including New York Magazine and Time Out New York. 
More than 300 people, many in costume, turned out for the ­Halloween-themed event. "Performers like Alex Borstein and Sarah ­Silverman and Reggie Watts make us seem kind of hip," Ludwig says. "And that can generate interest about our foundation and mission beyond our usual audience."
"What's So Bloody Funny?" raised more than $40,000 for NHF. Based on the success of the evening, NHF and Borstein are planning a follow-on event in 2014. "We're so lucky to be able to work with someone like ­Borstein," says Ludwig. "She's incredibly talented, she's very funny and she cares deeply about this community. That combination doesn't happen very often."