Event raised more than $290,500 for NHF
Author: Beth Marshall
More than 180 people gathered May 9 at Astra, a restaurant overlooking the lights of Manhattan's 59th Street Bridge, as the National Hemophilia Foundation (NHF) honored Katherine A. High, MD; Rosemary Holmberg, RN; and Baxter Healthcare Corporation for their service to the bleeding disorders community at its 2nd Annual Spring Soiree.
Mike Woods, meteorologist for Fox 5's Good Day New York, served as master of ceremonies with performances by Alex Borstein of Fox's hit show Family Guy, and Metropolitan Opera performers Vlad Iftinca and Elliot Madore. The event raised more than $290,500 for NHF, which will be used to improve programs and services.
High is the William H. Bennett Professor of Pediatrics at the University of Pennsylvania School of Medicine, investigator at the Howard Hughes Medical Institute, and director of the Center for Cellular and Molecular Therapeutics at the Children's Hospital of Philadelphia (CHOP). She was awarded the Leadership in Research award for her pioneering work in novel therapies for inherited disorders, and specifically for her research into safe genetic therapies for hemophilia.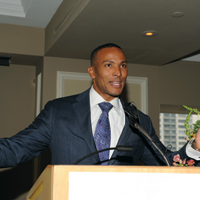 Patrick McMullan
Rosemary Holmberg, RN, longtime executive director of the Hemophilia Center of Western New York, was honored for her 39 years of service to the bleeding disorders community with the Inspiration Award. NHF CEO Val D. Bias, who was a patient at the treatment center when he was a child, spoke of Holmberg's personal dedication to the patients she still calls "her boys" and their families. When Bias was 12 and learning to self-infuse, Holmberg let him practice sticking a vein in her own arm. "That is just one example of the dedication and commitment to the bleeding disorders community that she has shown throughout her career," he said. 
Baxter Healthcare Corporation received the Corporate Leadership Award for its longstanding support of NHF's programs and chapters. It has been the National Presenting Sponsor of the Hemophilia Walk program since it began in 2008 with five Walk sites. Now, with Baxter's ongoing support, the Walk program has grown to 23 sites. Baxter also has provided more than $4.5 million to the NHF-Baxter Clinical Fellowship program, which seeks to increase the number of physicians providing care to people with bleeding disorders. The program provides mentorship and clinical training for physicians at selected HTCs.
The evening concluded with a live auction, hosted by Alex Borstein. Each attendee received a scarf created by fashion designer Nicole Miller for NHF's Victory for Women program.
"We were gratified that so many people have taken the mission of NHF into their hearts," says Mary Ann Ludwig, vice president of development for NHF. "When celebrities like Alex Borstein, Mike Woods, Patrick McMullan, Fred Ferguson, Sarah Steele and Nicole Miller all come out to support our organization and hear our stories, we know that we've done a good job of showing why support for this community matters."