US and Taiwan hemophilia associations exchange ideas
Author: Melanie Padgett Powers
Hemophilia care in Taiwan has been covered through the country's national health insurance system for the past 15 years. But those with bleeding disorders still need to know how to advocate for themselves, says Chung-Ming Hu, director of the Hemophilia Association of Taiwan.
 
Hemophilia is one of the most expensive diseases to treat in Taiwan. Hu, who has severe hemophilia B, does not want the bleeding disorders community there to become complacent about its national health insurance benefits. That's one reason he invited Angelina Wang, the National Hemophilia Foundation's (NHF's) director of research and medical information, to speak to members of his association. "I hoped her visit would influence patients here to try to change government policy, spread awareness of hemophilia and stand up for themselves," Hu says.
 
In 2009, Hu, now age 30, was sponsored by Taiwan's Council for Hakka Affairs to pursue a three-month internship at NHF in New York City. During NHF's Washington Days, he was inspired by young American men his age fighting for better healthcare access. He thought learning more about the American bleeding disorders community and NHF's advocacy efforts might galvanize his own community.
Hemophilia Advocacy
Taiwan has about 1,000 people with bleeding disorders. In January 2010, Wang spoke to 70 community members at a meeting in Taipei, Taiwan's capital. She also spoke to 50 members in Kaohsiung, the second-largest city. Wang, whose parents immigrated to the US from Taiwan, was able to introduce herself in Mandarin, but gave her presentations in English while Hu translated. Wang described the efforts to reform the US healthcare system and discussed NHF's education and research programs, funding, and services available through HANDI, NHF's information resource center.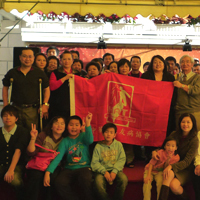 "Most of the costs for treatment in Taiwan have been covered by the government. That's phenomenal," Wang says. "But it's not something that's always going to be guaranteed. They do still need to know how to advocate for themselves in the event that they are ever threatened with the curtailment of their health benefits."
 
Although prophylactic treatment has not yet been allowed in Taiwan, people with hemophilia can go to the hospital for on-demand factor infusions at any time at no charge. They are given one dose at the hospital and can take two or three doses home for self-infusion later, according to Hu.

Wang says a major source of strength for the bleeding disorders community in the US is its consumer advocacy, a message she shared with the Taiwanese audience. "I used to believe there was a benefit to hemophilia patients staying under the radar," she says. "However, now I think it's more important for individuals to tell their own story correctly in terms organizations will understand."
Hemophilia Funding
Before Taiwan established its universal healthcare system in 1995, people with hemophilia received minimal treatment. Many men born before the 1990s experienced frequent joint bleeds, which were untreated, leading to disability. These men have difficulty finding appropriate work, a problem Hu's association, led by President Feng-Mei Chuo, is addressing. "We have requested funding from the government to help young men find adequate jobs," Hu says. The association can offer the men short-term jobs that will allow them to develop work skills.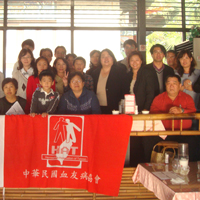 This year marks the first time the association, founded by Ming-Ching Shen, MD, 11 years ago, budgeted for government assistance. Previously, all funding was provided by pharmaceutical companies or individuals. The association requested funding from the Taiwanese government after learning that a portion of NHF's educational program funding comes from its own government. NHF has a cooperative agreement with the Centers for Disease Control and Prevention. "That was a surprise to us and something we wanted to pursue," Hu says. "If our association can have the ability to cooperate with the government, it will be better for our patient group and move us in the right direction."
 
The exchange between NHF and the Taiwanese association has benefited both countries. "To be able to meet some of the people in Taiwan was a great opportunity," Wang says. "It informs what I do here in the US. It has helped me understand what commonalities there are between our countries."

The people of Taiwan were quite interested in how their US hemophilia counterparts were faring. "I was asked if patients in the US experienced bullying or discrimination in school, what happens when care is not paid for, and how the older generation of men with hemophilia were doing," Wang says. "Visiting Taiwan only reinforced in my mind how much work we still need to do and how important it is for NHF to keep working to ensure that patients here in the US have the same ability to access the necessary life-saving treatments they require, regardless of the state they reside in or their particular insurance plan."