2013 Annual Meeting had high attendance
Author: Beth Marshall
The National Hemophilia Founda­tion's (NHF's) Annual Meeting brings together people with bleeding disorders and their families, providers and industry representatives during a three-day event that increases people's understanding of their disorders and the best ways to provide care. This year's 65th Annual Meeting, "United in Progress," held October 3–5, 2013, in Anaheim, California, was no exception, with the largest number of attendees in the meeting's history.
Attendees had their pick of more than 40 educational sessions for consumers and families. Diverse interests were met through sessions on new products in the pipeline, a hands-on workout session for men with bleeding disorders and a panel discussion about the challenges of being a minority with a rare disease.
The meeting took on an international flair as members of the Haemophilia Foundation of Nigeria (HFN), NHF's twinning partner through the World Federation of Hemophilia, attended the event. Megan Adediran, HFN executive director/president, spoke at several sessions. The session, "This Is My Life: International Voices on Living with Bleeding Disorders," let attendees hear from Adediran and others about coping with a bleeding disorder in developing countries where factor is not readily available, and how people in the United States can help.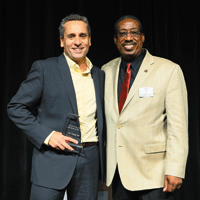 (Left) Guy Young, MD, from Children's
Hospital Los Angeles, received the
Physician of the Year Award from
Val D. Bias.
A symposium for a new audience, "Hemophilia Management and Specialty Pharmacy: Collaborating in a New Era to Optimize Outcomes," drew more than 250 specialty pharmacists, home health pharmacists and medical directors. The session was made possible through a collaboration between NHF and Impact Education, LLC. This activity was supported by an educational grant from Novo Nordisk Inc. The turnout was so favorable that NHF plans to offer more educational programming for pharmacists at the 66th Annual Meeting, "Nothing About Us Without Us," to be held September 18–20, 2014, in Washington, DC. 
Sessions for physicians and researchers, nurses, physical therapists and social workers focused on new challenges, including a plenary on weight management and bariatric surgery for people with bleeding disorders, new treatments for hepatitis C and carriers' treatment needs.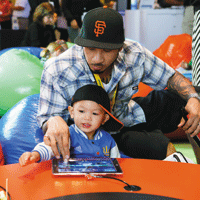 Dave Remigio of El Sobrante, California,
helps his son, Trystan, drive an iPad
game at the Exhibit Hall Opening
Reception.
People of all ages visited the Exhibit Hall to check out the latest products and services from more than 50 pharmaceutical and home healthcare companies, as well as local chapters and specialty pharmacies. For the second year, attendees also had a one-day sneak peek at the offerings of the Annual Meeting Platinum sponsors—Baxter, Bayer HealthCare, Biogen Idec Hemophilia, Novo Nordisk and Pfizer Hemophilia—at the Platinum preview lounge.
Details about the 2014 Annual Meeting, including registration information, are available on NHF's website.