City of Light to brighten WFH's 50th anniversary at World Congress
Author: Craig T. McEwen, WFH Congress and Meetings Director
The City of Light beckons the bleeding disorders community as the World Federation of Hemophilia (WFH) hosts its World Congress there July 8-12. This marks the 30th anniversary of WFH Congresses and launches the WFH's 50th anniversary celebrations.
Congress Program
The plenary lectures will focus on the history of hemophilia and the evolution in our knowledge about inherited bleeding disorders. They will pay tribute to the many people within our community, both past and present, who have strived to improve treatment and care throughout the world.
The medical program will cover new scientific research and clinical trials profiling future advances in treatment products and clinical care. Top specialists and researchers will provide updates on hepatitis C and HIV, and models of prophylaxis. And, in what is sure to be a lively debate, experts will compare the use of long-acting products with the promise of gene therapy.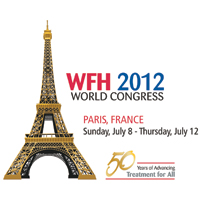 The multidisciplinary track will discuss holistic approaches to healthcare and lifestyle changes for people with bleeding disorders. Topics will include family perspectives and support, psychosocial models in hemophilia, aging with hemophilia and women's bleeding disorders. Professional development workshops for dental professionals, nurses, musculoskeletal specialists and laboratory sciences will round out the program.
A Record Breaker
The WFH 2010 World Congress in Buenos Aires, Argentina, had a record-breaking attendance with more than 4,300 participants from 106 countries. We hope the 2012 Congress will once again break attendance records by continuing to attract a cross-section of the hemophilia community, including people with hemophilia and their families, national member organizations, medical professionals and researchers.
Youth participation is strongly encouraged. Several multidisciplinary sessions will address youth issues such as coping strategies and self-care, youth engagement and involvement, and youth programs and concepts from both developing and developed countries. In addition, the Susan Skinner Memorial Fund scholarships will be awarded to two young women with bleeding disorders at the Congress.
Travel Plans
All major airline carriers fly to either of the two international airports in Paris: Charles de Gaulle (CDG) and Paris Orly Airport (ORY), with many direct flights on major carriers available from the US. The Eurostar train is another option for international travelers, with direct connections to London and Brussels. And Paris is an ideal location to extend your trip into a European vacation.
[Steps for Living: Traveling When You Have a Bleeding Disorder]