Conference will feature cutting-edge content
Author: Jens C. Bungardt, WFH Congress & Meetings Director
The World Federation of Hemophilia's (WFH's) 2014 World Congress, the largest international meeting dedicated to hemophilia, von Willebrand disease, rare factor deficiencies and inherited platelet disorders will take place May 11–15 in Melbourne, Australia.
The WFH 2014 World Congress program will reflect the latest in medical research and key issues concerning healthcare professionals and patients in the field of hemophilia and other inherited bleeding disorders.
The medical track will focus on the most recent advances in clinical and basic science. The following leading international experts will present plenary sessions during the congress: Michael Berndt, PhD; Carl Blobel, MD, PhD; Manuel Carcao, MD; Johannes Oldenburg, MD, PhD; David Scott, MD, PhD; and Marijke van den Berg, MD, PhD.
There will be cutting-edge plenary sessions on primary hemostasis and joint disease, as well as sessions on inhibitors, including inhibitor development in children, immunology of inhibitors and immune tolerance induction. Plenaries on treatment will discuss the current status of new products for clotting factor deficiencies and the future of hemophilia prophylaxis with novel therapies.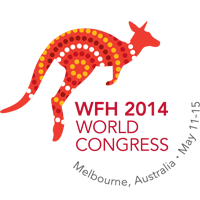 The multidisciplinary program will address the essential concerns in the care of people living with inherited bleeding disorders. Important sessions include: managing chronic pain, integrated information systems, managing hemophilia with no or limited clotting factor concentrates, explanations and strategies to overcome nonadherence, and aging gracefully with hemophilia. Other topics include leadership development strategies, living healthfully with hemophilia, future of hemophilia care and approaches to inhibitor management.
At the 2014 World Congress, there will be specialized tracks in musculoskeletal, laboratory sciences, dental, psychosocial and nursing disciplines.
The WFH 2012 World Congress brought together the global bleeding disorders community in Paris in droves. It also took on a special meaning with the launch of the 50th anniversary of the WFH and the start of its Close the Gap campaign. With a record attendance of 5,370 participants, the session rooms, poster area and exhibition hall were filled to capacity. Attendees came from 130 countries and included hematologists, pediatricians, orthopedic surgeons, physiotherapists and physiatrists. Other healthcare professionals included dentists, nurses, social workers, psychologists, geneticists, laboratory scientists, researchers and patient leaders.
Discover Australia
Considered one of the world's most livable cities, Melbourne is celebrated for its friendly residents, efficient services, laid-back atmosphere and dining. But it is also known for its world-class meeting facilities within easy walking distance of hotels, ­restaurants and attractions in the central business district. During the congress, delegates from around the world will come together to network, gain knowledge and share insights about treatment and care of ­hemophilia and other inherited bleeding disorders.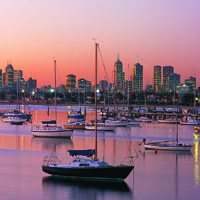 Port Phillip offers a beautiful
view of Melbourne, Australia.
The WFH 2014 World Congress could be a once-in-a-lifetime opportunity to visit Down Under and discover some of Australia's many treasures. Few places can match the vast natural diversity in Victoria, Australia's smallest state on the mainland. ­Further, many of Victoria's popular ­attractions are accessible as day trips from Melbourne.
Register online at wfh2014congress.org by November 11, 2013, as a WFH member and save up to $220. And don't forget to visit us at the WFH booth during NHF's 65th Annual Meeting in Anaheim, California, October 3–5, 2013, for your chance to win a trip to the WFH 2014 World Congress. We look forward to seeing you in Anaheim later this year, and then, of course, in Melbourne in 2014.