International humanitarian efforts get factor where it's needed most
Author: Richard Andrews
Living with a bleeding disorder in a developing country poses unique hardships for patients. "When I was 12 years old, I suffered the trauma of a swollen joint," remembers Fuad,* who lives in Azerbaijan. "I was not able to walk for nine months. My parents had to carry me in their arms."

Fuad had seen First Blood, the Rambo film starring Sylvester Stallone, and it had a profound effect on him. After he experienced the swollen joint, Fuad says, "I dreamed that I would recover and become strong like Rambo and go on missions with him."

Thanks to an infusion of donated factor VIII, Fuad was able to have the surgery he needed, and he eventually changed his mind about aspiring to be a jungle commando. Fuad grew up to become a doctor in his country's capital city, Baku. Today this young man is in his 20s and now helps other people with hemophilia.

The treatment product that changed Fuad's life was sent to Azerbaijan by the World Federation of Hemophilia (WFH) as part of its Humanitarian Aid Program. The nonprofit organization distributes donated clotting factor concentrates to patient organizations. In more than 50 countries and in the past 10 years, it has saved or improved the lives of tens of thousands of people with hemophilia. The local organizations distribute the factor to individuals, such as children in war zones, patients undergoing emergency surgery and road accident victims.

WFH works in partnership with healthcare professionals and people with hemophilia, governments and regulators, industry and foundations to improve hemophilia care throughout the world. It helps train doctors and nurses, monitors global threats to the safety and supply of products used to treat bleeding disorders and hosts the largest international meeting dedicated to hemophilia and bleeding disorders.
Coordinating a Global Network
The WFH Humanitarian Aid Program began in 1996, and has turned the WFH into the world's largest supply channel of donated hemophilia treatment products. Humanitarian aid coordinator Assad Haffar, MD, explains that emergency cases are given first priority. "We respond as quickly as possible to requests from patients with life-threatening bleeds or who are undergoing surgery," says Haffar. "Using WFH's extensive global network of volunteers, member associations and medical professionals, we've even been able to deliver treatment products to areas of conflict, such as Iraq and Afghanistan."

In 2006, the Montreal-based international organization sent 100,000 IU of factor VIII to war-torn Lebanon, and WFH volunteers hand delivered further donations of treatment products to people cut off from supplies. This particular conflict strained the federation's supplies of treatment products. In 2004, treatment products were sent to Indonesia, India, and Sri Lanka after a tsunami struck that region. In 2005, the WFH was among the first organizations to send humanitarian aid to people with hemophilia in Pakistan after it was devastated by an earthquake.

"Distribution of treatment products represents more than short-term humanitarian aid," says Haffar. "The donations also support efforts by the WFH and national hemophilia organizations to lobby governments for ongoing purchases of these products and sustainable hemophilia care."

Grateful recipients of donations often carry on the cause. Parimal remembers the day when a car hit the rickshaw carrying him home. The 32-year-old mathematician from Bangladesh suffered a broken knee, and complications from his severe hemophilia A threatened his future ability to walk and work.

"The WFH provided an emergency supply of factor concentrate," says Parimal. "I could not walk. The donated factor saved my leg."

Parimal grew up in a remote fishing village on the Bay of Bengal where he had no access to treatment products for his severe bleeding episodes. Despite many challenges, he finished his studies. He is now vice president of the Hemophilia Society of Bangladesh, an organization he helped form in 1994 to improve treatment for other patients.
A Team Effort
Distribution of these treatment products around the world is a massive undertaking. Atlanta's Hemophilia of Georgia, a chapter of the National Hemophilia Foundation, helps WFH with warehousing, packing, shipping and documentation.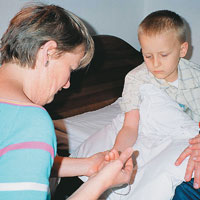 Donated products come from hemophilia treatment centers, homecare companies and product manufacturers. The amount of factor concentrates distributed over the past decade has varied between 3 million to 55 million units annually, depending on available supplies. But the global need is ongoing.

One beneficiary, Dairon, who is from the La Habana province in western Cuba, wrote last year to thank the WFH for helping him celebrate his 11th birthday.

Dairon was born with severe hemophilia A and developed inhibitors. Cryoprecipitate and other treatment products caused allergic reactions in him. He is unable to attend school regularly because of frequent bleeds, but says he receives good support from his teachers and Cuba's health programs.

In the letter to the WFH, Dairon described a dangerous hematoma and mouth bleed he had developed a year ago, which was not responding to available treatment: "I was in a very bad condition and desperate from the pain I was suffering," he wrote.

Dairon's birthday present was life. He was saved by a donation of recombinant factor VII, sent to Cuba by the WFH in response to an emergency request from Cuba's national hemophilia association.

"I would like to thank from the bottom of my heart all the people that have helped me," he wrote in the letter.

Stories like these serve as an important reminder for Haffar at WFH. "There is a critical need for product donations," he said. "We get many desperate calls for help."

* Last names withheld to protect patient confidentiality.

Editor's Note: At the time this article was originally published, Richard Andrews was the communications officer for the World Federation of Hemophilia.