Second annual event raises spirits and support
Author: Beth Marshall
What do a TV star, a juggler and a mock candidate for president of the United States have in common? They all came together to help support the National Hemophilia Foundation (NHF) at its second annual "What's So Bloody Funny?", an evening of comedy held October 28, 2014, at the New World Stages in New York City. The event raised more than $65,000 for NHF.
Alex Borstein, star of HBO's comedy series Getting On, and the voice of Lois Griffin on FOX's Family Guy, hosted the first "What's So Bloody Funny?" on October 30, 2013. It was a success, drawing more than 300 people and raising more than $40,000 for NHF.
"Alex is a carrier of hemophilia and has a daughter who has mild hemophilia," says Mary Ann ­Ludwig, NHF's vice president of development. "And she's a talented comedian, so this was a way for her to combine her talent for entertainment with her desire to help the bleeding dis­orders  community."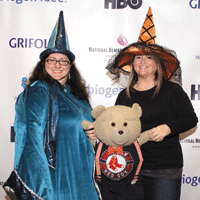 Lori Courtney Bantel (left) was the
winner of the online costume
contest, receiving a free VIP
pass to the event.
Borstein kicked off the evening with a monologue on the difficulties of living with a bleeding disorder, sprinkled with a great deal of humor. She then turned the stage over to the likes of Tonight Show regular Nick Thune; Todd Barry, of FX's Louie and Comedy Central's Doctor Katz, Professional Therapist; Rory Albanese, comedian and executive producer of The Nightly Show with Larry Wilmore; and juggler and comedian Marcus Monroe. Judah Friedlander, who played Frank Rossitano on NBC's 30 Rock and co-starred in the film American Splendor, rounded out the lineup of acts.
"We were so fortunate to have such talented people who were willing to come out and support us," Ludwig says. The event was featured in the local press, including The New York Times, New York magazine, Time Out New York and the Village Voice. "Events like this help us spread our mission beyond the bleeding dis­orders community and out to the general public. That's important."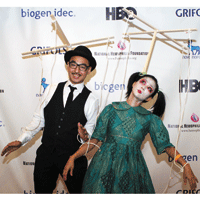 Zuiho and Mitsuko Taniguchi
pulled no strings to win the
costume contest.
NHF is grateful for the support of Monster Sponsor Biogen Idec; Spooktacular Sponsor Novo Nordisk; Ghoulish Goblin Sponsor Grifols, as well as Cresa, HBO, Potatopia, Tiger Beer, Walgreens, CSL Behring, Strategic Marketing and Mailing, New England List Services, JJH Employer Services, Handy and all other supporters who helped make the night a success.