Increasing visibility for bleeding disorders
Author: Amy Lynn Smith
Efforts to raise awareness of health conditions have gotten more creative. The Ice Bucket Challenge brought prominence to the condition of people with amyotrophic lateral sclerosis (ALS). Red dresses and pink ribbons have symbolized heart disease and breast cancer for years.
The challenge to advocate and inform is even greater when a condition is as rare as bleeding disorders. After all, in a country of more than 323 million people, an estimated 20,000 Americans have hemophilia. Further, some medical professionals don't recognize the symptoms of a bleeding disorder. The Centers for Disease Control and Prevention estimates as many as 3 million people in the US may have von Willebrand disease (VWD), but are not yet diagnosed. "You can go into emergency rooms and there are physicians who got a paragraph in medical school on hemophilia or a mention of VWD," explains Michelle Rice, senior vice president of public policy and stakeholder relations at the National Hemophilia Foundation (NHF).
The need to raise the profile of bleeding disorders is great. In terms of raising the bar for national awareness, NHF set a goal and met it. This year it succeeded in getting March designated as Bleeding Disorders Awareness Month and launching the Red Tie Challenge. 
Then and now
Awareness and advocacy have been central to NHF's mission since the organization was established in 1948. NHF reached a significant milestone in 1986 when it lobbied the US Congress and President Ronald Reagan to designate March as National Hemophilia Awareness Month.
According to John Indence, who was NHF's vice president for marketing and communications when he passed away in May, the designation was awarded primarily because the HIV/AIDS crisis was having a devastating impact on the bleeding disorders community. In the 1980s, before blood and plasma donations in the US were properly screened, more than half of Americans with severe hemophilia became infected with HIV. This crisis led to another initiative driven by NHF with overwhelming community support: the Ricky Ray Hemophilia Relief Fund Act of 1998, which provides compassionate payments to many of those infected with HIV.
The federal designation of National Hemophilia Awareness Month was only in place for 1986, but every year thereafter, the bleeding disorders community kept it alive. On the 30th anniversary of this original declaration, NHF resolved to take it one step further. The foundation wanted to broaden the scope to make March a time to raise awareness of all bleeding disorders.
NHF's goal was to get March recognized as Bleeding Disorders Awareness Month on the calendar of National Health Observances (NHO), designated by the US Department of Health and Human Services (HHS). 
In its application to HHS, NHF emphasized the importance of preventing complications for people with bleeding disorders and raising awareness of VWD. Because so many people living with VWD are not yet diagnosed, raising awareness becomes a preventive measure. 
HHS agreed, and in 2016 it recognized March as Bleeding Disorders Awareness Month in perpetuity. "This designation underscores NHF's commitment to all people with bleeding disorders," said Indence.  
Engaging in the democratic process
Earning the awareness month designation took teamwork. It represents the result of many years of efforts to raise awareness among the elected officials on Capitol Hill who formulate public policy. "NHF's grass-roots advocacy reaches back decades," says Johanna Gray, NHF federal policy advisor and a senior vice president at CRD Associates in Washington, DC. 
In the nine years Gray has worked with NHF, the organization and its supporters have focused largely on lobbying Congress for appropriations to fund federal hemophilia programs. NHF also lobbied diligently to end lifetime caps on health insurance coverage, which was accomplished as part of the Affordable Care Act (ACA). In Februrary 2016, NHF and its supporters rallied behind the designation of Bleeding Disorders Awareness Month during Washington Days, NHF's annual advocacy event on the Hill.
Each NHF chapter recruits at least two advocates to attend NHF's Washington Days each year. These advocates are typically people with bleeding disorders, as well as families and friends, who meet with their elected officials. According to Gray, such annual visits have raised a lot of awareness of bleeding disorders in Congress. 
"The bleeding disorders community makes fantastic advocates, because it's the same skills people use to advocate with their doctors, kids' teachers or insurance companies," Gray says. "It's really about people  telling their personal stories."
In 2016, 315 members of the bleeding disorders community from 44 states attended Washington Days and spoke to their elected officials. David Addison of Portland, Maine, was one of them. He brought his 11-year-old twins: William, who has severe hemophilia, and Grace, who may be a carrier for hemophilia. 
"The Maine delegation is very excited to see our group every year," David says. "They're engaged, they ask a lot of questions and they're sincerely concerned about our community." This advocacy is vital for the entire bleeding disorders community, to protect the funding provided for hemophilia treatment centers. 
An added benefit is that David's twins get to see democracy in action. Grace told Sen. Susan Collins (R-Maine) she intends to win her seat someday—a meaningful example of how empowering the experience can be for young people.
In addition, NHF also asked members of Congress to co-sponsor a bill that would facilitate access to nonprofit patient premium assistance programs. Under a rule related to the ACA, some insurance plans have been refusing to accept checks from those programs, something NHF is working to change.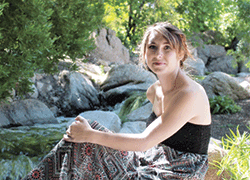 Dakota Hollingsworth brought the Red Tie Challenge
to her Arizona high school.
This year's Washington Days introduced the Red Tie Challenge. The Red Tie Challenge is a movement created by the bleeding disorders community and its advocates to start a conversation about inheritable bleeding disorders. It encourages support for all people living with bleeding disorders around the world. (See sidebar, "Tie One On.")
Members of Congress were asked to either post a photo of themselves wearing a red tie on social media using the hashtag #RedTieChallenge or to give a floor speech about bleeding disorders. To date, six members of Congress gave floor speeches and dozens posted about it on social media.
In the first month, the Red Tie Challenge created 65 million impressions via social, print and broadcast media. Celebrities, sports figures and advocates for bleeding disorders awareness from all walks of life posted photos and videos on Facebook, Instagram and Twitter.  
Although the Red Tie Challenge was launched in 2016, it will be an ongoing campaign, says NHF. "We want people to see a red tie and think 'bleeding disorders,'" Rice says. "Once we solidify the red tie as the symbol, we may implement a different call to action as part of the Red Tie Challenge, such as advocacy to fund research."
Stating the case
In the bleeding disorders community, state-level advocacy remains essential. NHF chapters across the country are leading the way. For example, the chapter in Arizona is participating in NHF's Future Leaders program, a nationwide advocacy training program for young adults. Among other activities, participants visit their state Capitol to speak to their representatives about bleeding disorders.
Dakota Hollingsworth, 18, is in the program. She has a platelet aggregation disorder and has visited the Arizona Capitol a number of times. With the support of the volunteer club at her high school, Hollingsworth brought the Red Tie Challenge to her school, passing out red ties for students to wear at an all-school assembly. There, she spoke about life with a bleeding disorder and succeeded in getting about 200 students—half the school—to wear red ties. "I didn't expect so many people to do it," Hollingsworth says. "It meant a lot to me." 
So far, four states have issued resolutions or proclamations observing days or months recognizing bleeding disorders: Illinois, Kentucky, Georgia and South Carolina.  
Looking forward
The Red Tie Challenge and Washington Days launched a series of events this year to boost awareness of bleeding disorders. The momentum carried through to the celebration of World Hemophilia Day on April 17 in conjunction with the World Federation of Hemophilia (WFH). It continues through the summer with NHF's Annual Meeting and WFH's World Congress in Orlando in July.
The successful passage of federal and state resolutions recognizing bleeding disorders is worth celebrating, but is only the beginning. NHF intends to continue increasing its awareness-building efforts, and not just in the US. "We want to use this as a platform to get a global message out," Indence said. "Although our community here in the US has remained relatively healthy over the past 20 years, there are 400,000 people globally with hemophilia and untold millions with VWD. Seventy percent of them have no access to treatment."
As the bleeding disorders community continues advocating for one another, these initiatives underscore the importance of consistently working to raise awareness.  According to Rice, some people can go 10 to 15 years before obtaining the correct diagnosis. "When I meet women who think it's normal to have a 15-day menstrual cycle, I hope that getting NHF's name out there can help," she says. "Maybe now they'll think, 'I should ask my doctor to test me for a bleeding disorder.'"