Event attracted 230 attendees and raised $390,000
Author: Beth Marshall
With the Hudson River glimmering in the background, the National Hemophilia Foundation (NHF) welcomed more than 230 people to its third annual Spring Soiree at The Lighthouse at Chelsea Piers in New York City on June 12. The event paid tribute to these honorees: Betty Jane and Robert Henry, who were given the Founders Award posthumously; Paul E. Monahan, MD, who received the Leadership in Research Award; ­society photographer Patrick ­McMullan, who was given the Doreen McMullan McCarthy Award; and Pfizer Hemophilia, which was honored with the Corporate Leadership Award.
Hosted by Mike Woods, meteorologist for Fox 5's Good Day New York, the Soiree raised $390,000 for NHF.
Fred Ferguson accepted the Founders Award on behalf of his sister, Betty Jane Henry, and brother-in-law, both now deceased. The Henrys started the Hemophilia Foundation, Inc., on June 15, 1948, as a way to raise money for research for hemophilia treatment. Their son, Lee, was diagnosed with hemophilia after an abdominal bleed when he was 14 months old; he died from complications of a bleed when he was 21.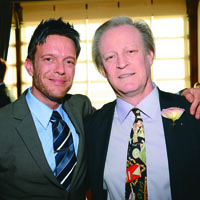 Patrick McMullan, right, with his
nephew, Jamie McCarthy. He
accepted the award named for
Jamie's mother, Doreen McMullan
McCarthy, who was his older sister.
Monahan is an associate professor in the Division of Hematology/Oncology in the Department of ­Pediatrics at the University of North Carolina (UNC) at Chapel Hill. He is also attending physician at the Harold Roberts Comprehensive Hemophilia Diagnostic and Treatment Center there and a principal investigator at the UNC Gene Therapy Center. Monahan has been actively researching ways to advance the safety of gene therapy while improving expression of clotting factor.
Patrick McMullan has been an integral part of the Spring Soiree since its inception in 2011. The award he received bears the name of his sister, Doreen McMullan McCarthy, who died in 1979 from complications of a gastrointestinal bleed due to von Willebrand disease. McMullan has worked with NHF to raise awareness of the foundation—in particular, its commitment to women's bleeding disorders. He has also supported Connect for Bleeding Disorders, NHF's young professionals group.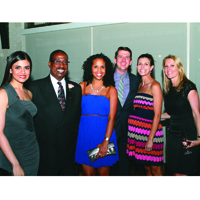 NHF's CEO Val D. Bias (second
from left) with members of NHF's
young professionals group,
CONNECT: Sneha Ramachander,
Aliana Soto, Joseph Miller, with
his wife, Shelby Miller, and Melanie
Fitzgerald. CONNECT raised more
than $10,000 for the Spring Soiree.
Emil C. Andrusko, RPh, vice president of US marketing and sales at Pfizer, Inc., accepted the Corporate Leadership Award on behalf of Pfizer Hemophilia, title sponsor of the Spring Soiree. Pfizer Hemophilia has supported many of NHF's programs and initiatives, including the Hemophilia Walks, Steps for Living, the Campaign for Our Future, the Regional Leadership Seminars and the National Advocacy and Empowerment Program.
The soiree's star power was increased by the presence of Countess LuAnn de Lesseps of Bravo's The Real Housewives of New York City, fashion designer Nicole Miller, celebrity chef and Food Network star Chris Nirschel and columnist Michael Musto. A signature cocktail was created for the soiree by mixologist and writer Marshall Altier.