Annual fundraiser honors notables
Author: Beth Marshall
On April 28, on the banks of the Hudson River, the National Hemophilia Foundation (NHF) welcomed 250 people to its fourth annual Spring Soiree at The Lighthouse at Chelsea Piers. The event honored several notable people in the bleeding disorders community: Richard J. Metz, MD, FACP, who received the Inspiration Award; Glenn Pierce, MD, PhD, who received the Leadership in Research Award; and Gary D. Farro, who received the Corporate Volunteer Award.
Metz has been a long-standing advocate for the bleeding disorders community since his son Michael was born with severe hemophilia in 1987. He has served on the board of directors of the Hemophilia Foundation of Southern California for most of the past 26 years. He also served on the Board of Directors of NHF for five years and was interim president. Metz is an internal medicine physician, and is an associate clinical professor at the University of California, Los Angeles.
The festivities included a live auction, where attendees bid on one-of-a-kind experiences. Those included tickets to the finals of ABC's Dancing with the Stars and Fox's American Idol. The auctioned items raised more than $28,000 for NHF. The Soiree raised a total of $422,000, the most since the event began.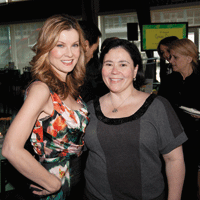 Television news anchor Jodi Applegate
(left) presided over the soiree and
took time to hobnob with comedian
Alex Borstein.
NHF is grateful for the support of the sponsors of the Spring Soiree: Biogen Idec Hemophilia; Novo Nordisk; Baxter BioScience; The Kurr Foundation; Boston Scientific; McKinsey & Company, Inc.; CSL Behring; Deloitte Consulting LLP; Quintiles; Grifols; Bayer HealthCare; First Republic Bank; Pfizer Hemophilia; The Book Family; Chandler Chicco Companies; The Hemophilia Alliance; JUICE Pharma Worldwide; ICC Lowe, LLC; Liquidhub; McMURRY/TMG; Physicians World; Sangamo BioSciences; Inc.; and Sobi.