Education program helps patients and providers
Author: Nancy Mann Jackson
When Michelle Rice's older son, Lance, was 5 days old, he had an intra­cranial hemorrhage and spent three weeks in the neonatal intensive care unit at Riley Children's Hospital in Indianapolis. Doctors didn't know if he would survive. The diagnosis turned out to be severe hemophilia A. 
Five years later, when Michelle's second son, Lucas, was also born with severe hemophilia A, she already knew the drill. She had spent enough time in emergency rooms and doctors' offices to realize what her sons were facing and how to ask for the care they needed. Today, Lucas and Lance are 19 and 24 years old, respectively, and Michelle is vice president for public policy and stakeholder relations at the National Hemophilia Foundation (NHF).
During the last two and a half decades, Michelle has encountered healthcare providers of all types. She can tell which ones truly understand the needs of patients with hemophilia. The tip-off is that they give patients the floor to explain things. "They know each patient bleeds differently and has different experiences, and they are willing to listen," she says.
Provider education program begins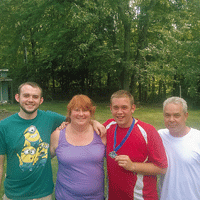 In 1996, NHF partnered with the Indiana Hemophilia & Thrombosis Center (IHTC) and Hemophilia Foundation of Michigan to create Partners in Bleeding Disorders Education. The program provides comprehensive, broad-based education for providers in a variety of disciplines who serve patients with hemophilia and other bleeding disorders.
Amy Shapiro, MD, a pediatric hematologist and co-medical director at IHTC, founded the Partners program. She recognized a need and met it. "There was no national education for nurses or other providers working in hemophilia care," she says. She launched the first hemophilia-specific basic education program for nurses. Since then, the Partners program has reached about 1,000 healthcare providers in person and online.
Learning from patients
The Partners program benefits patients because they receive care from better-trained nurses and other providers. One reason the training makes a difference is that it is very patient focused, Michelle says. For instance, nurses and other professionals in the training programs almost always hear from a patient or family. Some of the students were in tears as they listened to Michelle's story. "Early on in their careers, it's good for providers to hear from a patient or family member," she says. "They often don't understand the impact and difficulty their instructions might translate to in the patient's day-to-day life."
Like all patients with hemophilia, Lance and Lucas bleed differently and describe their experiences individually. "Hemophilia is so unique to each patient," their mom says. "That's why it's so important for healthcare providers to pay attention to their needs." The Partners program teaches providers to listen to their patients, she says.
Expanding the education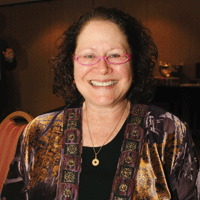 Amy Shapiro, MD, founded
the Partners program
in 1996.
The typical nursing school curriculum does not include in-depth education in hemophilia care. The Partners program is often many nurses' introduction to it and to other nurses in the field, says Natalie Duncan, the Partners program coordinator at IHTC. "The program offers thorough training that nurses would otherwise only get through on-the-job experience," she says.
Healthcare professionals who attend the basic education program learn about the principles of hemophilia and how to recognize abnormal bleeding. Sessions cover inhibitors and evidence-based treatment regimens for bleeding disorders, and how to manage the disorders and their treatment. Attendees also learn the psychosocial implications of hemophilia, as well as the modifications patients may need at school or work, Duncan says. The classes also cover physical therapy, joint health and adaptive equipment, such as the use of crutches or splints.
Partners' basic education program reaches about 75 people each year, including members of the entire interdisciplinary team, such as social workers, physical therapists and physicians. The Partners program also offers an advanced education program for nurses and nurse practitioners who have at least two years' experience at a hemophilia treatment center (HTC). This program serves almost 50 people annually, Duncan says. Also, because Partners is a collaboration among HTCs across the country, it has access to the top faculty members and course developers working in the field. "After every program, we get good evaluations about how much it's helped them and how they'll be able to help patients," Duncan says.
For instance, Arnette Hams, RN, BS, OCN, nurse manager at the Lehigh Valley Hospital-Muhlenberg Hemophilia Center in Bethlehem, Pennsylvania, has referred school nurses to the Partners program. "I also send new nurses in my department to Partners education programs, and we take the online courses for continuing education," she says. "We've done programs on genetics, bleeding, joints and prophylactic infusions."
The benefits of the programs to nurses are invaluable. "I've heard several nurses say they'd like to take every module Partners offers," says Susan Hunter, RN, BSN, senior hemophilia clinical nurse at the Hemophilia Treatment Center in Cleveland.
The Partners program further serves as a platform for building a close-knit community of learners among those who work in the field. The relatively small number of providers who exclusively treat patients with bleeding disorders tend to have a paucity of peers. "Hemophilia nurses are very isolated, so it's rare and very nice to be able to interact with others who work in the same area," Hunter says.
"Being able to collaborate with each other brings about more standardization of care and gives clinicians more of a network to reach out to when they have questions," Michelle adds.
Broadening the reach
After almost two decades, the Partners program continues to grow and expand its educational reach. Its latest program is a hemophilia basics course for social workera; a program for physical therapists will launch in 2015.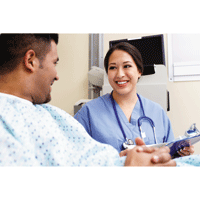 Creatas/Thinkstock
Partners is developing additional educational topics for a variety of healthcare providers, says Lori Wagner, MSN, clinical program coordinator at Phoenix Children's Hospital's Hemostasis and Thrombosis Center and a member of the Partners Advisory Board.
For instance, in conjunction with American Nurses ­Credentialing Center, the Partners in Bleeding Disorders program is developing a hemostasis certification program for nurses.
The Partners program has created educational materials for subspecialists who also care for patients with bleeding disorders, such as ob/gyns and orthopedic surgeons, says Wagner. "The Web-based format makes it possible to reach a broad audience who may not otherwise have access to reliable, evidence-based information about rare bleeding disorders," she says.
The program staff frequently post new content on its website. That growing repository of information is available for healthcare providers across the spectrum who may encounter patients with bleeding disorders.
Although the Partners program was created by and for HTCs, and funding is provided by an unrestricted educational grant from Baxter Healthcare Corporation, its education programs reach other healthcare professionals. For instance, it hosted a conference on bleeding disorders for school nurses. "Several attendees said they knew of students with bleeding disorders," Hunter says. "Now if they encounter a student with a bleeding disorder, they can go online and access Partners resources."
Better-educated healthcare community
Even though most patients are not aware of the Partners program, they reap its benefits. They receive care from an array of providers who are more highly qualified and ­educated about their specific needs. "Those aren't just treatment ­center nurses," Hunter says. "They are providers across the community."
In fact, when HTC physicians and nurses are well trained, they tend to work more with staff at nearby hospitals to ensure that they are also trained on the needs of patients with bleeding disorders, Michelle says. In this way, the Partners program helps to spread reliable education about bleeding disorders care throughout the healthcare community, ensuring that patients receive enhanced, more standardized and comprehensive care.
"Today, there is a greater awareness of what hemophilia is among healthcare providers," Michelle says. "The Partners program has certainly helped to expand knowledge in clinical settings."