50 years of advancing treatment for all
Author: Sarah Ford, WFH communications manager
Every year on April 17, the global bleeding disorders community comes together to mark World Hemophilia Day (WHD). World Hemophilia Day provides an opportunity for people around the world to acknowledge their shared mission to advance care and treatment for those who live with bleeding disorders. This year willtake on a special significance for the World Federation of Hemophilia (WFH) and the global bleeding ­disorders community, as it marks "50 Years of Advancing Treatment for All."
For half a century, the WFH has worked around the world to close the gap in care. Its goal has been to achieve treatment for all people with hemophilia and other inherited bleeding disorders, regardless of where they live.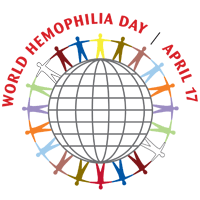 However, much more remains to be done. The reality is that globally, 75% of people with bleeding disorders still receive inadequate treatment or no treatment. The percentage is even higher for those with von Willebrand disease and rare factor deficiencies. During this milestone year for WFH, it is important that we reflect on what has been accomplished so far and what can be improved in the future for the global bleeding disorders community.
"One of the greatest benefits of participating in World Hemophilia Day is the recognition that our community is more powerful when we work together," says Alain Weill, WFH president. "People from around the world will mark this day and raise awareness about the need to achieve Treatment for All."
This year, we are asking everyone to create a video sharing your hopes and wishes for the next 50 years. The videos can be posted on WFH's Facebook page.
Also on April 17, the WFH will premiere The Journey Begins. This film shares the history of Frank Schnabel's establishment of the WFH in 1963, and his vision for the future of the global bleeding disorders community.
"There was very little knowledge about hemophilia, even in major centers," says David Page, narrator of the film and former WFH executive committee member (2000–2008). "The idea was to bring people together, share knowledge and improve care across the world. Schnabel's vision was an international one, a global vision."
The film covers a time when treatment was limited, even for those in more developed countries. It aims to inspire future leaders of the bleeding disorders community by highlighting the difference Schnabel made through his vision and hard work. Toward the end of Schnabel's life, reflecting on the future of the WFH, he proclaimed, "We are going to emerge victorious."
Join with us Wednesday, April 17, to celebrate World Hemophilia Day 2013. To help support your activities, WFH has created a poster and other materials that can be found on our Web site. After your event, please contact us to share your successful activities.
Together, we will Close the Gap.