Danish Crown Princess meets New York bleeding disorders community
Author: Beth Marshall
Hemophilia is often called "the royal disease" because of its connection to Queen Victoria and her descendants. That nickname was particularly apt on Tuesday, March 11, when Mary Elizabeth, Her Royal Highness Crown Princess of Denmark, met with families with bleeding disorders at a small reception at the Bryant Park Hotel in New York City.
Novo Nordisk, a Danish pharmaceutical company, arranged the event. Attendees included Christian Schønau, Lord Chamberlain; Tanja Doky, Lady-in-Waiting of the Royal Court; Jarl Frijs-Madsen, Consul General of Denmark in New York, Ambassador; Eddie Williams, senior vice president of biopharmaceuticals, Novo Nordisk; Val D. Bias, CEO of the National Hemophilia Foundation (NHF); Melissa Penn, president of the New York City Hemophilia Chapter; and additional staff members from the Danish Consulate, Novo Nordisk and NHF.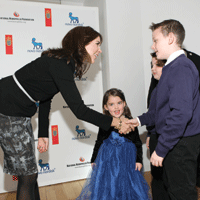 The Crown Princess meets
Christopher Ambrosio and
his brother, Connor, and
sister, Kelsey.
After Bias, Williams and Frijs-Madsen­ delivered introductory remarks, families affected by bleeding disorders from the New York City area were presented to the Crown Princess.
The event also celebrated the long partnership between NHF and Novo Nordisk. In January, NHF dedicated the opening of the NHF/Novo Nordisk HANDI library with a ribbon-cutting­ ceremony. Support from Novo Nordisk enabled NHF to digitize more than 13,000 articles about all aspects of bleeding disorders, which are accessible to the public through requests from HANDI.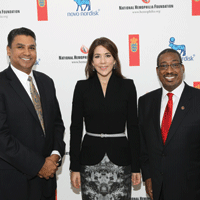 (Left to right) Eddie Williams, senior
vice president of biopharmaceuticals,
Novo Nordisk; the Crown Princess;
and NHF CEO Val D. Bias. Novo
Nordisk coordinated the event, which
allowed local families to meet Her
Royal Highness.
"It was an honor to have Her Royal Highness Crown Princess Mary of Denmark visit with our community," Bias says. "The Crown Princess has a deep commitment to furthering advances in public health both in her home in Denmark and around the world."